Meet The Spirited Woman, Master Distiller: Molly Troupe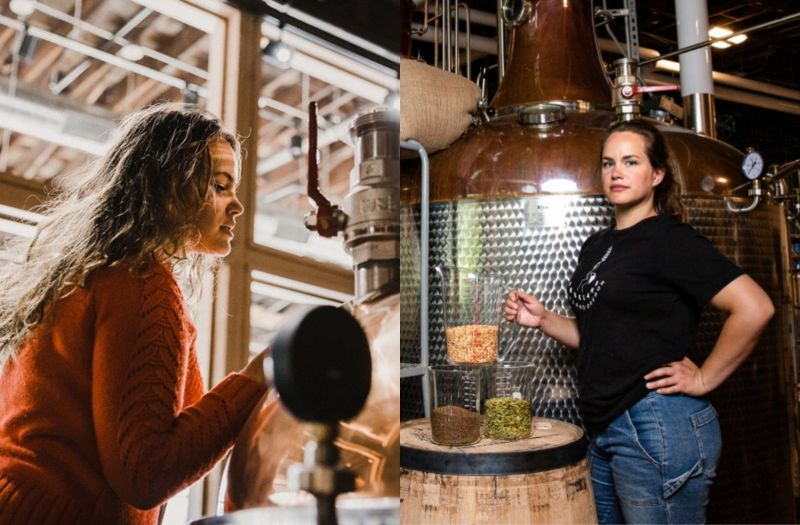 17/02/2022 Master Distiller Molly Troupe on the biggest challenges in the distillation industry, advice for young distillers, and her story behind crafting Freeland Spirits.
Molly Troupe is the Partner and Master Distiller at Freeland Spirits, a craft distillery in Portland, Oregon, creating whiskeys and gins. She is also a part of the American Craft Spirits Association as a member of the board of directors. Being the youngest female master distiller in the United States, she was also included in Forbes' "30 under 30" list of the brightest young entrepreneurs. Molly with her partner Jill Kuehler created Freeland Spirits which is now among one of the few completely women-run and operated distilleries in the world. Having a degree in biochemistry, distillation, and her diverse experience in the beverage distillation industry, Molly and her team craft some of the finest spirits which are worth a try.
[[relatedPurchasesItems-31]]
Tell us a little about yourself? What inspired you to join the Beverage Distillation industry?
My journey into spirits distillation started in college. I was earning my degree in forensic Chemistry and had the realization that I would much rather apply my degree to the art of distillation than crime scenes. I ended up attending Heriot Watt University's Brewing and Distilling masters program in Edinburgh and then moved back to Oregon to become a distiller. Years later, I am now the Master Distiller and Partner at Freeland Spirits, one of few women-owned and operated distilleries in the world. In my free time, I enjoy exploring the world of flavor through spirits, wine, beer, and food, hiking with my partner and dogs, and yoga. Late last year, we welcomed a sweet baby girl into our family who has completely changed our world.
What does your typical day look like?
As Master Distiller, I spend my days managing every aspect of production, from beginning to end of the process. A typical day varies a lot, especially as a new mom, but generally includes checking and responding to emails, paperwork, quality control, sensory analysis, and working on a variety of improvement projects. I love that I get to be hands-on and a part of future strategies for Freeland Spirits.
According to you, what makes a spirit great?
Layers and balance make a great spirit. I love spirits where every sip invokes a different note and yet it still manages cohesiveness.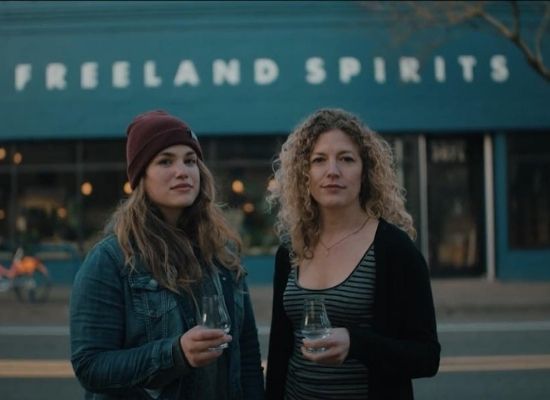 Master Distiller, Molly Troupe, and Founder/CEO, Jill Kuehler, Source: Instagram / Molly Troupe
How do you work in harmony with the Restaurants, Distributors, and Retailers? How do you think they can help you to increase sales and how can you work with them to innovate and expand?
We believe that spirits are about celebration and community which restaurants, distributors, and retailers represent. These businesses help us connect with our customers, some of them who are having their first experience with our brand. As much as we try, we can't be everywhere at once, so when we have a bartender who can share our story and make an amazing cocktail using one of our spirits, it helps us gain a customer. The same can be said for the distributors and retailers who support us. They are crucial for helping us tell our story and helping us grow. They also are often the first to spot trends due to close customer relationships which can help us navigate new product releases.
What does Freeland's DTC (Direct To Consumer) channel look like? Can you give us a brief overview of it?
In May 2020, Oregon changed its rules and allowed distilleries to deliver and ship their spirits across the state. As soon as this rule changed, we launched online ordering and hired a driver to help us make local deliveries. This helped us and other Oregon distilleries really capture an audience during what was a scary time for any business and because this rule was made permanent, we are still capturing sales. DTC sales to other states we do not deal with directly but there are companies who facilitate those sales. The American Craft Spirits Association and distilleries nationwide are hoping that DTC channels change so that distilleries can ship to customers across the country. That is a work-in-progress.
What kind of changes has taken place in the distillery since the Pandemic?
So many changes have happened since the pandemic for Freeland. First of all, we closed our tasting room to the public. Instead of selling spirits using our beautiful space and talented and charismatic staff-led tours, we sold spirits online and delivered them locally. Thankfully, our cocktail kits featuring our spirits and fresh mixers were a big hit and led to lots of loyal customers. Next, we pivoted our normal spirits production to help with the hand sanitizer shortage for a brief period. Thankfully, the supply chain righted itself and we got back to what we do best, making alcohol made to be imbibed. That was in 2020 and since then, things have continued to evolve. We re-imagined our Tasting Room and opened it once again last spring. Now we serve mini cocktails and sell cocktail kits and bottles. We have released new products and we continue to adapt to the new landscape we find ourselves in.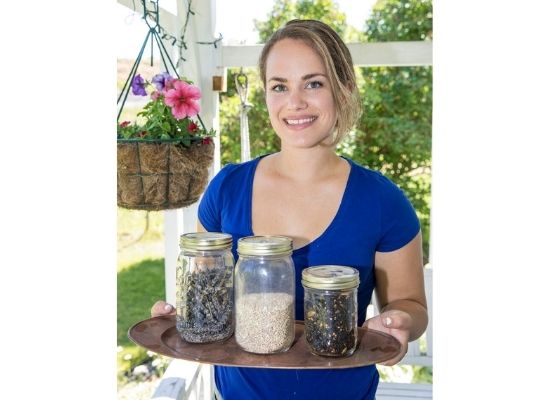 Source: Freeland Spirits
What are some of the recent upgrades and innovations in terms of technology in the distillery? What do you think are some of the upcoming innovative Spirits trends in the market?
We have an innovative and creative team at Freeland. At the start of the pandemic, our team created Freeland Fresh, fresh mixers that pair perfectly with our spirits. Our Front of House team is constantly coming up with new flavor combinations that people love. In production, we continue to develop new products like canned cocktails, which may make an appearance in the near future! The market seems to be trending toward the convenience of canned cocktails, so I think we will continue to see innovative new products there as well as with more adventurous spirits. Bourbon and American whiskies will continue to be popular, but I do think more people, especially younger drinkers, will be willing to get weird and explore newer categories of beverages.
How do you focus on sustainability while distilling your spirits?
One of the biggest ways we focus on sustainability while distilling is by limiting how much water we use. We minimize our water usage wherever we can, including our cooling water for our still which is looped through our chiller, instead of running down the drain. We try to source as many ingredients as we can locally, including botanicals and grain. Our grain is organic and is stone milled by a farmer a few hours away. Some of our botanicals are grown just 8 miles up the road.
What is the biggest challenge you face in your role? What is the one tip you would like to give someone who is looking forward to joining the beverage distillation industry?
The biggest challenge I face in my role is forecasting. This is especially true with anything that is barrel-aged that requires years of aging. With our rye whiskey, we are shooting for a four-year-old whiskey, and making sure that we are putting away enough barrels per year is a tricky calculation. For a small distillery without infinite resources, the balance between producing enough whiskey for four years from now, but not taking away funding from your current needs, is difficult. The tip I would give someone joining the distillation industry is to have a clear picture of what it takes to be in this industry, do your research. Go shadow your local distillery, ask lots of questions, talk to bartenders and other knowledgeable spirit guides about beverages, mop floors for four hours a day, and if you still really want it, go for it.
Can you take us through the product line of Freeland Spirits? What is Geneva?
At Freeland Spirits, we have something for everyone. We have four different spirits and two canned cocktails. We have three different gins (Freeland Gin, Freeland Geneva, and Freeland Dry Gin) and Freeland Bourbon. Our two canned cocktails are Gin & Rose Tonic and French 75. Our rye whiskey is still about a year away! As much as we love whiskey, we also love gin and that was the first product we released. Each of our gins is a deep dive into the world of botanicals, other than juniper they do not have a lot of commonalities. Perhaps the most diverse is our Geneva. It is our ode to the most traditional gin, Genever, which is a spirit that is protected geographically and can only be made in Belgium or The Netherlands. We wanted to give a bit of a preview of our rye whiskey, but instead of just releasing a white whiskey, we paired it with a sultry botanical blend and created a gin that exists in the space between gin and whiskey. Because of this, our Geneva is so fun to play with behind the bar.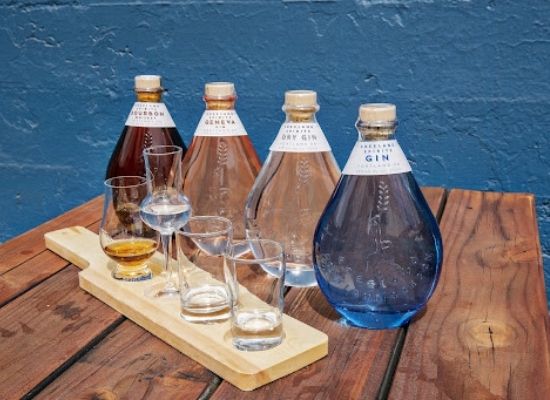 Freeland Spirits product lineup, Source: Molly Troupe
What is the story behind the unique bottle shape of Freeland Spirits?
Besides the bartenders, distributors, and retailers who help us tell our story, we wanted the bottle to also speak for us. Our bottle can be immediately spotted on the shelf and with its curves evokes a more womanly feel. Interestingly enough, we've had some people compare its shape to a uterus but really it is more of a teardrop shape. We are in Portland, Oregon. where it rains a lot and thanks to that rain we have an abundance of agriculture, from grain to grapes and so many things in between. Our bottle is an homage to the rain that gives us so much. It also is a nod to the Teardrop Lounge, a bar that inspired Jill, Freeland's Founder and CEO, to start Freeland. It was there that Jill was able to ask a million questions about spirits and the industry and it helped shape her desire to launch our distillery.
Finally, which is your favorite expression of the spirits you make and your favorite cocktail?
They are all my creations so I have a hard time playing favorites, but I have a special place for our first release, Freeland Gin. With any spirit, one of my favorite cocktails is the sour, and Freeland Gin makes a delicious one. I love to play with the citrus and the simple syrup component, but it has to have either egg white or aquafaba to give it the texture that makes a sour so good. Right now, I am using a 50:50 grapefruit lemon blend and a thyme simple syrup and I'm calling it Spring is in the Air. Call me hopeful.
Header image source: Freeland Spirits
Interviewed By Tushar Anand, Junior Writer, Beverage Trade Network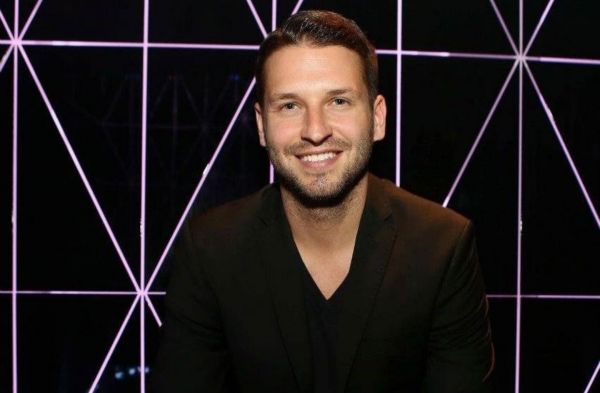 Interviews
"It was a shock, none of us could believe it. I remember thinking to myself 'no, wait, we can't shut down, what are you talking about?'"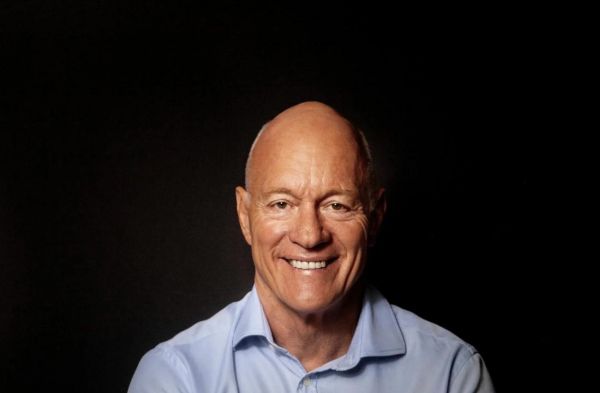 Interviews
Damian talks about Stoli's signature brands, his objectives for Stoli Group in the coming years, and the limited edition vodka, Stoli released to support Ukraine amid the Russian invasion of Ukraine.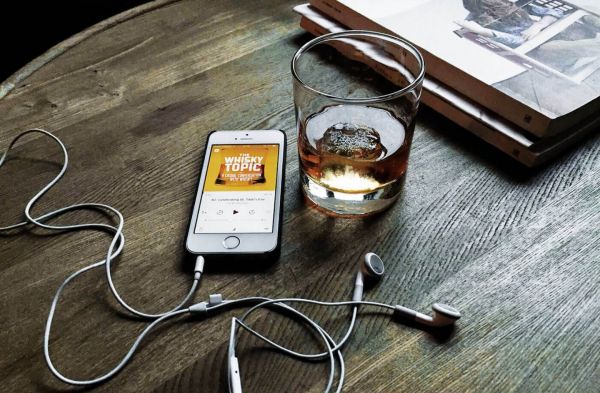 Insights
Podcasts about spirits have become very popular in the food and beverage genre. Here are 10 spirits podcasts that you should tune into today.
South San Francisco Conference Center, 255 South Airport Boulevard, South San Francisco, CA 94080, United States.
Register Now