How is Malt Whisky Different From Grain Whisky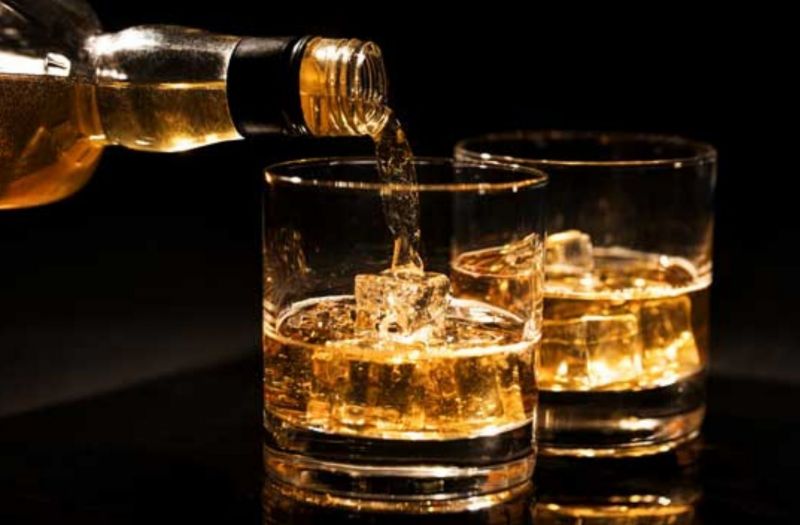 01/04/2022 Aren't you curious to know the differences between malt and grain whiskies? Let's look at how distillers and blenders use these two types of whisky differently.
To begin with, Whisky is a popular grain-based alcoholic beverage. The most noticeable and distinguishable distinction between Malt and Grain Whisky is that Malt Whisky can only be distilled from malted barley. On the other hand, Grain whisky can be made from any grain, including unmalted barley, wheat, corn, and rye.
Malt Whisky is solely made from malted barley mash and nothing else. When manufacturing Malt Whisky, no other grains can be used, whereas when making Grain Whisky, distillers have wider leeway to utilize any grain they like or even a combination of grains. Mainly, Single Malts are regarded as superior because of a belief that it has been passed down from generation to generation among whisky lovers. The truth is that when brewed and aged correctly, both Single Malts and Blends are equally delicious.
[[relatedPurchasesItems-31]]
Whether single grain or not, Grain whiskies have historically been less expensive to produce, and their flavor profile is described as mild, pleasing, and less overpowering. Grain whisky is often used as a quiet, supporting component in blended Scotch whiskies because of these properties.
Malt whisky has a lighter body and a sweet, caramel, or toffee flavor, Whereas Grain whisky, is a lighter and delicate version of malt whisky. It comes in a broader range of flavors based on which grain is used. Corn whiskey is known for its sweetness, while rye whisky is peppery and dry. Another distinction is that malt whisky is produced using the pot still method, whereas grain whisky is made using the continuous still method. The manufacturing of malt whiskey is much more complicated than that of grain whisky.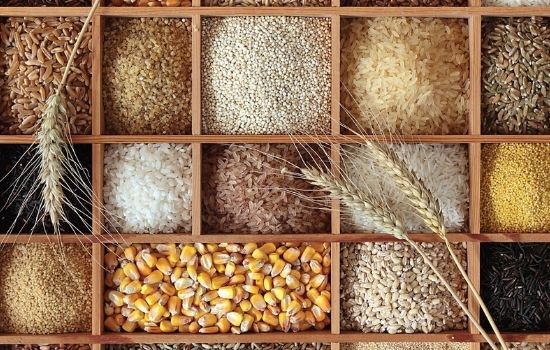 Image Source: Distilling; Different Types of Grains for Whisky Making
What does a Single Malt Whisky or a Single Grain Whisky mean? - Single malt whisky means that it was produced, aged, and bottled at a single distillery. It could originate from a variety of barrels, batches, and ages. Whisky could only be labeled as a Single Malt whisky if it was distilled, aged, and bottled at a single distillery. The Glenlivet, for example, is a single-distillery malt whisky. It's called Single Malt Scotch whisky because the distillery is in Scotland.
Single-grain whiskies imply that the whisky came from a single distillery like single malt whiskies. Grain whisky can be produced from unmalted grain, but it must be distilled, aged, and bottled all at the same distillery to be called a Single Grain whisky.
Blended Scotch Whiskies are made out of malt and grain whiskies in various proportions, depending on the Master Blender's preferences. There are blends with a higher proportion of grain whiskies, such as Black & White Whisky, and there are also some delicious malty mixes on the market. For example, Chivas Regal is one of the Blended Scotch whisky brands that combine quality malt and grain whiskies to achieve a sublime balance of smoothness and flavor. Ballantine's, one of the most successful Blended Scotch whisky producers globally, uses Single Malts from Miltonduff, Glentauchers, and Glenburgie in its blends. Their grain whiskies come from Strathclyde, and Master Blender Sandy Hyslop delicately blends them.
Grain whiskies can be fantastic, but the industry has overlooked their potential, relegating them to a second-tier position beneath Single Malts and Blended Scotch. Traditionally, this was not a category that was bottled and sold. It was and still is predominantly used to make blended whiskeys like Johnnie Walker Red, Dewar's White Label, and Jameson. Grain Whisky has recently gained popularity because of its approachable flavor profile and versatility in cocktails. It is gaining popularity around the world.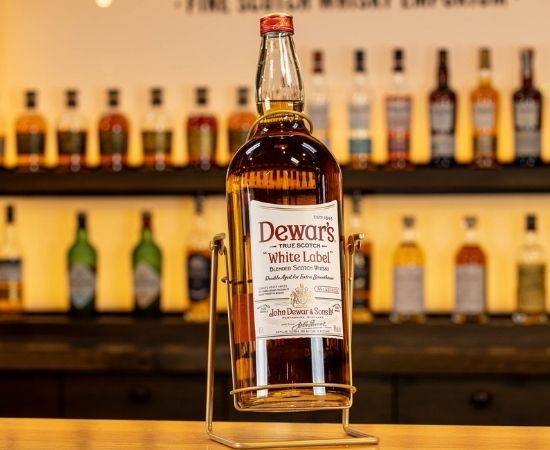 Image Source: Dewars, Dewar's White Label Blended Scotch Whisky
Dewar's White Label Blended Scotch Whisky. Dewar's was founded by John Dewar Sr, a wine and liquor merchant, but his sons, John Alexander and Tommy, propelled the company forward. White Label was created in 1899 by their first Master Blender, A. J. Cameron, and includes over 40 different malt and grain whiskies.
Grain Whisky is a hot topic in Japan, and Suntory's Chita Distillery is now manufacturing it. Suntory is playing around with Grain to see what kind of flavor profiles they can come up with. They're experimenting with different maturation casks and different strengths to see what they can come up with. Wheat, rye, and corn are among the grains they concentrate on. When it comes to Grain Whisky, Japan leads the way, but other distilleries worldwide follow closely. Distilleries like Loch Lomond and Girvan in Scotland are pioneering a new category of Scotch Grain Whisky. These distilleries are bottling high-quality, well-aged Grain Whisky, posing a threat to Single Malt. Endorsed by soccer icon David Beckham, Haig Club is one of the few Single Grain whiskies available today. It is gaining traction in the whisky world. Nikka Coffey Grain Whisky is brewed primarily with corn and a splash of malted barley in the mash bill. A Coffey still was used to distill it. Masataka Taketsuru, the company's founder, acquired a Coffey still from Scotland in 1963 because he wanted a grain Spirit with a high alcohol level that also retained the grain's character, flavors, and aromas.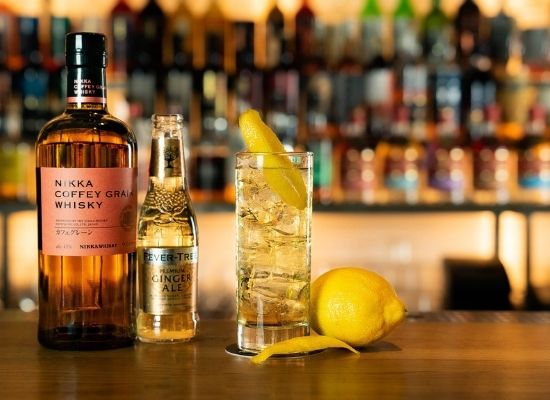 Image Source: Nikka Whisky, Nikka Coffey Grain Whisky
Other than Single Malt Whisky and Single Grain Whisky, there are two types of blends in the Scotch whisky industry: blended malt and blended grain. The former combines two or more Single Malt whiskey, while the Blended Grain is made up entirely of Grain whiskies.
Only a few brands still produce this style of whisky, which the industry has mostly ignored. Compass Box is a well-known Blended Grain whisky, whereas Chivas Regal debuted the Ultis, their first-ever Blended Malt. It's a super-premium luxury whisky made using five unique single malts to pay tribute to Chivas Regal's five Master Blenders. Monkey Shoulder is another brand of blended malt whiskey that has gained popularity in recent years. It contains single malts from Balvenie, Kininvie, and Glenfiddich and has been noted to pair well with cocktails and mixers.
Article By Aakriti Rawat, Beverage Trade Network
Header Image source: My Fermentation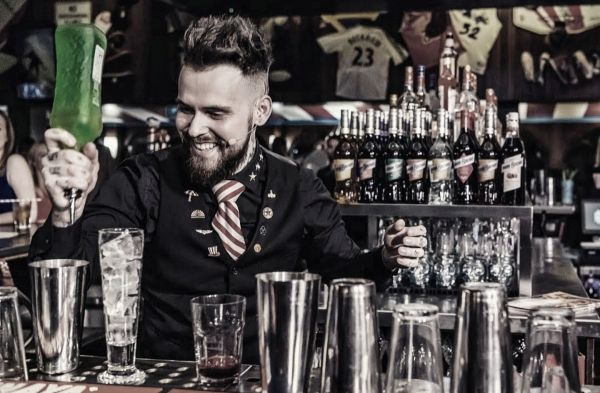 Interviews
Internationally acclaimed Master Bartender Gary Burdekin talks about the cocktail trends he sees happening in 2021.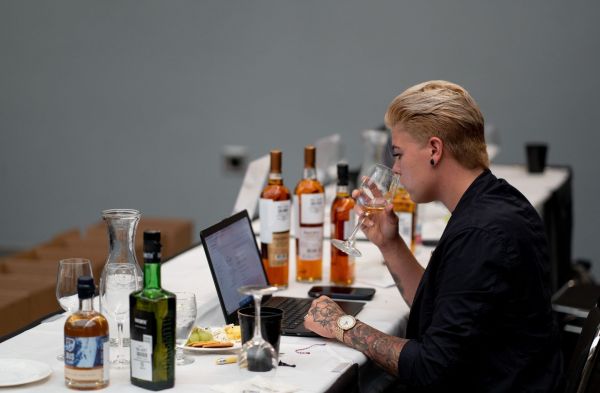 News
From Barr Hill Gin to Uncle Nearest's Whiskey, these are the spirits your consumers will buy again and again this year.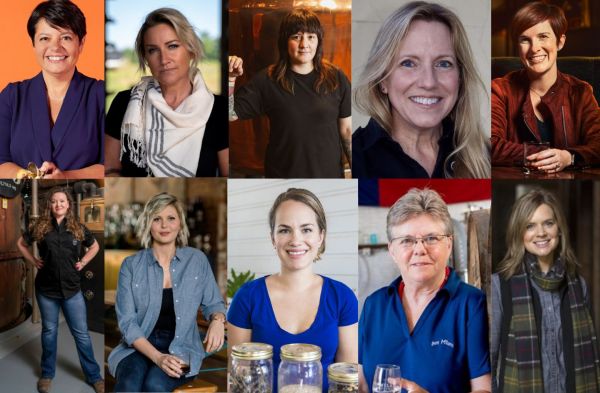 Insights
From brand ambassadors to distillers, blenders, and whisky company founders, women are as important to the future of whisky as anyone else. The article below highlights ten key women making their mark in the whisky industry.
South San Francisco Conference Center, 255 South Airport Boulevard, South San Francisco, CA 94080, United States.
Register Now