12 Questions With The Master Distiller, Alasdair Day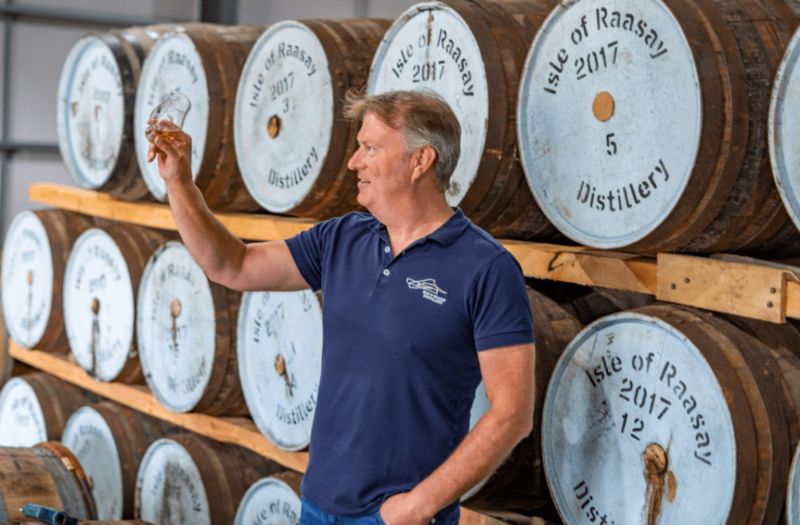 22/08/2022 In the interview below, Alasdair Day, Co-founder of R&B Distillers & Isle of Raasay Distillery, talks about the distillery, its spirits range, sustainability, exploring new markets, and the spirits industry.
Co-founders Bill Dobbie and Alasdair Day first got together in 2013, intending to become Scotland's leading artisanal distiller. Emphasizing quality, provenance, localised production, and innovative methods. The Isle of Raasay Distillery was the first legally recognised distillery established on the Isle of Raasay in northwest Scotland to make the best Hebridean single malt Scotch whisky and develop a distinctive whisky destination, perhaps with the nicest view of any distillery in Scotland.
The Isle of Raasay Distillery opened its doors on September 14th, 2017; since then, they have picked up various awards, including Tourism Destination of the Year and Best Brand Experience at the Scottish Whisky Awards, and a Gold Laurel at the Scottish Hotel Awards.
[[relatedPurchasesItems-31]]
Hi Alasdair, Tell us about yourself and your background. When did you first get involved in whisky?
I can trace my connection to Scotch Whisky back to 1820, when J&A Davidson was established in Coldstream in the Scottish Borders. They owned the Coldstream brewery, had the licenced grocers shop in Duke Street and were blenders of Scotch Whisky.
My Great Grandfather, Richard "Dickie" Day, left school in 1885 and joined J&A Davidson as an office boy. In 1923 he took over the business until he retired in 1945. I inherited his "cellar book", which contains all the recipes for Scotch Whisky they blended from 1899 to 1916. In 2009 I tried to recreate one of the blends from the book The Tweeddale. In 2010 I launched my first batch of the Tweeddale and haven't looked back since.
How did the idea for a distillery come about? What inspired you?
The idea for the distillery came about in 2012 when I thought about expanding the blending business and quickly released that the investment required to do so would be enough to build a small distillery. As a result, I wrote a business plan to raise the investment to build a distillery, and I met Bill Dobbie through that process. Bill had the idea of building the distillery on the Isle of Raasay, and we co-founded R&B Distillers Limited in July 2014 to create the distillery there.
Was it harder or easier to get started than you anticipated? What were your initial challenges, and how did you overcome them?
Building a distillery in the Hebrides on an island off an island was always going to be challenging. There is an excellent ferry service to Raasay, with a modern hybrid ferry that is charged overnight on Raasay. We had envisaged the ferry to be one of the main challenges, but it proved not to be the case. Managing the build to be a lot more challenging, particularly the refurbishment of Borodale House to create the six ensuite bedrooms. We broke ground on Raasay in June 2016 and commenced distilling in September 2017. We opened the visitor centre and accommodation in January 2018. Our first Isle of Raasay Hebridean single malt scotch whisky was released in November 2020.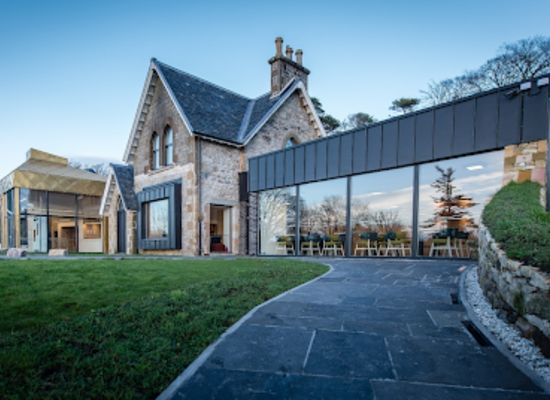 Image: The Isle of Raasay Hebridean Distillery
Why Raasay? Tell us more about it. What makes it so distinct?
The Isle of Raasay is a small, rugged, windswept island lying on the East Coast of Skye in the Hebrides in Northwest Scotland. It is 14 miles long and three miles wide, about the same size as Manhattan but with a population at the last census of 161 people. We currently employ over 30 people at the distillery who live on Raasay. Raasay has a complex geology and a torrid history, from the Norsemen, through Clan MacLeod of Raasay, to the Iron Ore mine during the First World War and several less than compassionate absentee landlords. However, the spirit of the community is not just made do but make better. A spirit embodied by the Raasay Raiders and Calum's Road. It also has the best views of the Skye, the ideal location for our distillery #bestdistilleryview.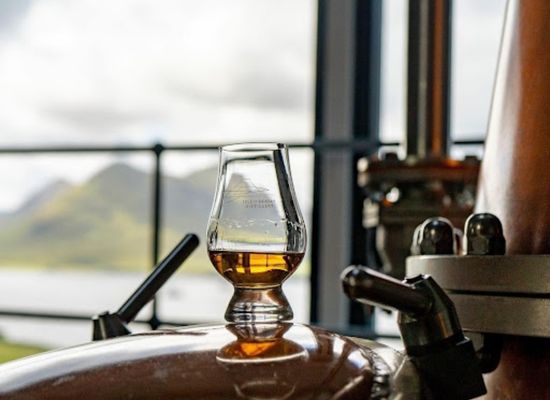 Image: The Isle of Raasay Hebridean Distillery
Tell us about your spirits range. From where do you source your ingredients?
We have two spirit ranges:
- Isle of Raasay Hebridean Single Malt Scotch Whisky
- Lightly peated with dark fruit, depth, complexity and balance beyond its years.
We use 100% Scottish malted barley. Our primary current source is Boortmalt Glenesk maltings. We use 50% plain malt and 50% heavily peated malt (50 to 52 ppm), both distilled and matured separately. We do not segregate or have separate tanks for the plain or peated spirit but "bleed" these at change over. We then identify and cask this intermediate spirit separately. So essentially, we have three types of spirit peated, unpeated and intermediate, all matured separately that can be vatted together after maturation to produce complexity, depth and balance or bottled separately to create special releases.
We also have distilled barley from different regions of Scotland and used different barley varieties.
- Bere barley - grown by Alex Home Roberston at Paxton South Mains in Berwickshire in the Scottish Borders.
- Salome & Laureate barley - grown at Balfour Estate on Shapinsay in the Orkney Islands.
- Laureate Barley - grown by the Graham family at Westbacks farm, Machrihanish, Campbeltown.
- Salome Barley - grown by Prestonhall Farm in Pathhead, East Lothian and malted by Crafty Maltsters in Fife.
- Raasay Barley- grown on Raasay in 2017, 2018 and 2019, distilled in 2018, 2019 and 2021, respectively.
Four different barley varieties; Bere, Iskria, Kannas & Brage.
These different regions and varieties will be bottled as special releases to showcase the difference in flavour created by the growing region or the barley variety.
Water
All of the water that we use at the distillery on Raasay comes from our own well on site. This draws mineral-rich Raasay water from the Jurassic sandstone 60 metres below the distillery. We use this for mashing, fermentation, cooling, cask reduction and the reduction for bottling.
Yeast
Primarily we use a distillers' yeast, but we also use a champagne yeast that was also developed for Tequila and Mezcal. This champagne yeast increases the amount of dark fruit character in the flavour profile of our new make spirit.
We also have our:
- Isle of Raasay Hebridean Gin
- A Zesty, citrusy, juniper lead gin.
We use the same water from our well on site for distilling, cooling and reduction to bottling strength. We also use a handful of hand-foraged Raasay Juniper, and a splash of our new make malt spirit as one of the botanicals. There was rhubarb growing at Borodale House when we purchased it prior to building the distillery, and this inspired another botanical in our gin, the rhubarb root.
We stop whisky distillation once a year for a week to make our gin on our spirit still. We designed our distillery with a vapour basket. We can divert the spirit vapours through the gin basket to flavour it with the essential oils from the botanicals (e.g. Coriander, orange & lemon peel and Rhubarb root) before the vapours go to the condenser. Some of the hardy botanicals go directly into the spirit still (i.e. the Juniper, Liquorice root and Orris Root).
One of your objectives is to use a modern approach to traditional spirit-making. How do you intend to accomplish this?
Process design
We were fortunate enough to have a "blank sheet of paper" and be able to design the distillery process specifically, not only to produce the still of spirit that we wanted to make on Raasay (lightly peated with dark fruits) but also to design in flexibility in the process that allows us to produce a number of different styles of new make from a single malt distillery.
Fermentation Time & cooling jackets on the washback.
We run 6 x 120 hour / 5 day fermentations and 4 x 70 hour / 3 day fermentations every week. This mix of longer fermentation times not only creates flavour compounds but also the mix for fermentation times gives us greater complexity of flavour.
All of our six stainless steel 5000-litre washback have cooling jackets. This is one of the flexibilities that we designed for the distillery. By having these cooling jackets either off or on, we can either stop the fermentation temperature from going above 32*c or allow it to go as high as 34* / 35*C. Holding the fermentation temperatures at 32*c produces fewer heavier flavour compounds (e.g. fusel oils), and allowing the fermentation temperature to run higher creates more of these heavier flavour compounds.
Cooling jacket on the Wash Still Lyne arm
We have a cooling jacket on the descending Lyne arm of our wash still before the condenser with a collection pipe that goes back into the wash still. There is a value on this recirculation line that can be open or closed. Another of our flexibility steps, if this value is open, creates a loop that builds up more of the heavier, more viscous vapours that then, in turn, create more viscous and complex low wines.
Purifier off the spirit still Lyne's arm before the condenser.
We have a valve on the ascending Lyne arm of our wash still that, if we want, diverts the spirit vapours to our purifier, which contains six bubble cap copper plates. This then produces a lighter, more blackcurrant flavour spirit at a higher alcohol strength of 80% abv compared with 70% abv. Again this gives us the flexibility to produce two different styles of new make spirit from the same spirit still.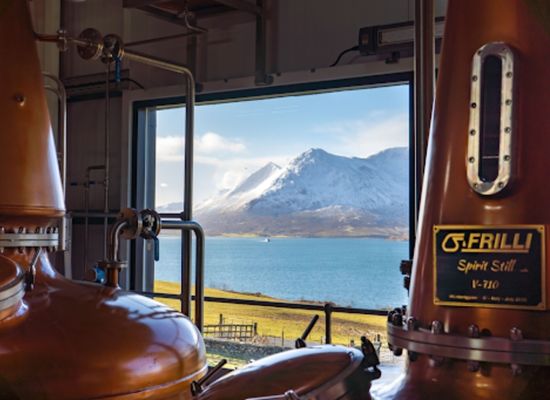 Tell us about the two spirits you produce – peated and unpeated- which mature separately in Chinkapin oak, Bordeaux red wine, and Rye Whiskey casks. What is so unique about them?
We run six months of plain (unpeated) malted barley and six months of peated (48 to 52 ppm) each year. These two spirit types are then matured separately in three different casks. Our peated spirit is more viscous than our unpeated spirit with aromatic wood smoke from the Highland peat.
The ex Rye casks give a lot of spice and black pepper flavours early on and then more sweet spice, vanilla and butterscotch.
The Chinkapin oak (Quercus Muehlenburgii) provides a lot of colour early on and deep dark fruit flavours.
The ex-Bordeaux red wine cask provides dark fruit flavours and then, in time, more savoury spice.
This bespoke wood policy and spirit production come to the fore when, after maturation, we vat all six cask types together to create the lightly peated Hebridean single malt with dark fruit flavours and the complexity, depth and balance that we are looking for.
What is your take on sustainability? How do you focus on sustainability while creating your spirits?
Heat recovery and closed water-cooling system.
We have two heat recovery steps in the distillery process. One after the mash tun that pre-heats the water for the next mash and another that recovers the heat from our pot ale and spent lees to pre-heat the wash going into the wash still. Both steps reduce the amount of steam required in the process and the amount of fuel used.
We have a closed cold water-cooling system with a cooling tower that recycles and re-cools the water, reducing the amount of water used.
We currently have an associate working with us and Strathclyde University on a two-year Knowledge Transfer Project looking a create green Hydrogen from our distillery bi-products to create future non-carbon sustainable fuel sources.
How do you explore new markets for your spirits and focus on business development?
We have been developing our markets in the UK and overseas since 2015 before we were even distilling on Raasay. This is the most challenging part of building a brand. We try to work with compatible partners in each export market, as each market has its own specific requirements. We are currently exporting to over 27 countries around the world. We have a dedicated sales and marketing team headed by our Commercial Director, William Dobbie, focused on future business development and opening up new markets.
Isle of Raasay Hebridean Distillers has won multiple awards; how does it feel? Where do you see the company in the next five years?
We are delighted at how our Isle of Raasay Hebridean single malt and Isle of Raasay Hebridean Gin have been received. The awards we have won, and indeed all of the third-party endorsements we have received, are a testament to the hard work and commitment of the whole team.
Over the next five years, our focus will be on continuing to build, develop and grow our Isle of Raasay brand. We are also currently working on our plans for our Machrihanish Distillery in Campbeltown, which will take shape over the next five years. We aim to distil there in 2025 with perhaps the first Machrihanish single malt in 2028.
How has the beverage industry evolved over the last two decades?
The beverage industry has evolved massively over the last two decades, with Gin developing from the mainstream to super-premium, niche and regional products. Scotch Whisky has also seen a dramatic rise in super-premium, niche and local provenance. All are driven by the number of new distilleries built in the UK and worldwide. This industry halo effect has also seen the multinational spirit business double down on investing in all their spirit brands. It has, after all, been a boom time for spirit brands.
What trends do you anticipate in the beverage industry in the coming months?
With inflationary pressures growing, political uncertainty, and a dramatic tightening of consumer spending in the coming months, it feels inevitable that the growth rate in the spirits industry will slow and that we will see a period of consolidation. However, businesses that are well invested, profitable and committed to growing their brands may continue to fair well.
Finally, Which is your go-to drink, and what is the perfect setting you enjoy it in?
My go-to drink is a Scotch Whisky and ginger ale enjoyed with good company or a stunning view #bestdistilleryview.
Header Image: Alasdair Day, Co-founder of Isle of Raasay Distillery
Interviewed by Aakriti Rawat, Beverage Trade Network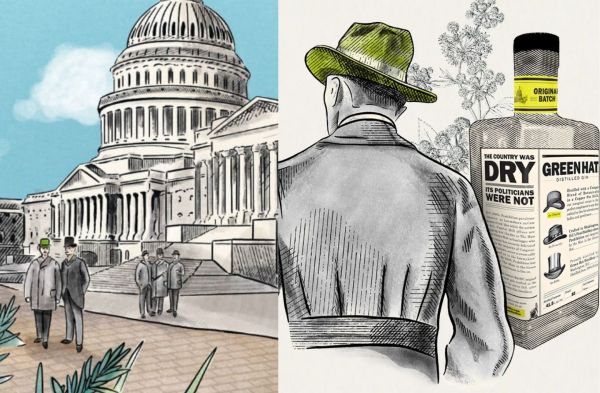 Suppliers Spotlight
2021 Bartender Spirits Awards rolled out their winners list and crowned the esteemed Gin Of The Year to Green Hat Gin.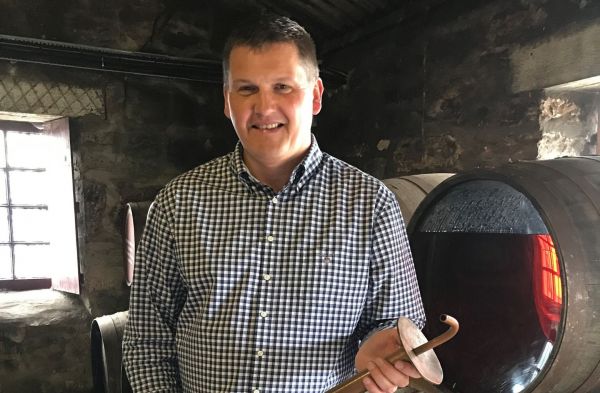 Interviews
Irish Whiskey has come a long way in the past few years - and there's plenty more to come, according to master distiller Graham Coull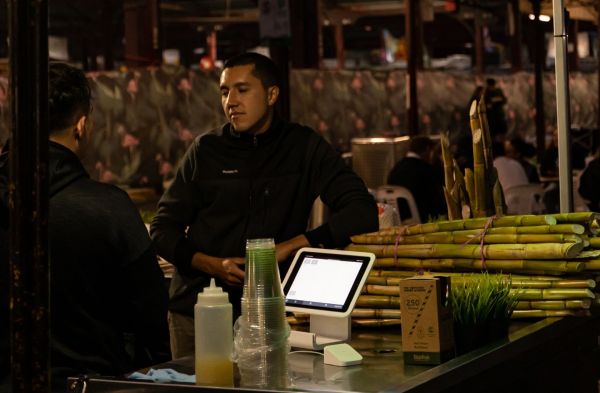 Insights
Bartending isn't only standing behind the bar and mixing. The digital world awaits your expertise. Bartenders, it's time to go digital.
South San Francisco Conference Center, 255 South Airport Boulevard, South San Francisco, CA 94080, United States.
Register Now