7 Speakeasy Bars in Barcelona to Take You Back to The 1920s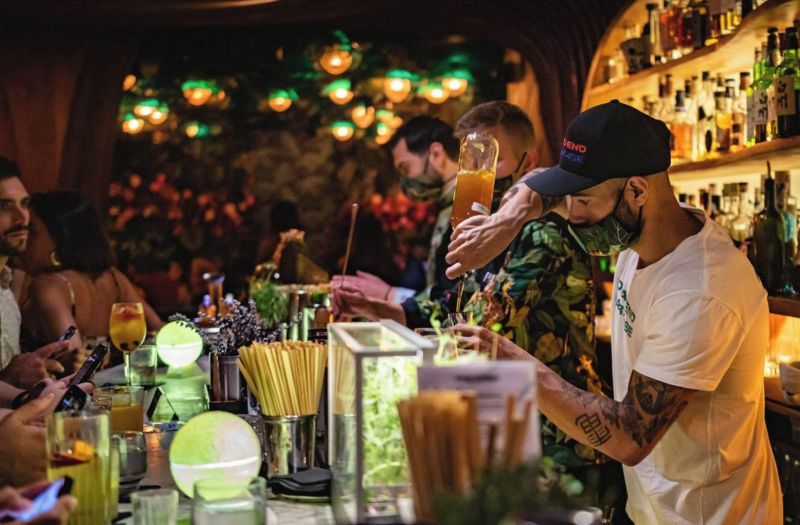 23/09/2022 Vintage is the word that comes to mind when describing speak-easy bars. If vintage matches your aesthetic, then look no more.
Talking about speakeasies, you have to talk about Prohibition. Prohibition was a period in the early 20th century (January 1920) when the production, importation, and sale of alcohol was banned in the United States. It lasted for 13 years and the National Prohibition Act appointed agents to enforce the new laws.
[[relatedPurchasesItems-31]]
Speakeasies typically disguised themselves as legal business like barbershops or soda shops. In order to enter, you needed to know a specific knock, handshake, or password to prove that you were a citizen looking for a drink and not a special agent looking to conduct a raid. To give you an idea of the theme they maintain – the decor is vintage to portray the 1920s. The front and back bars at speakeasies are usually made of wood, with shelves as high as the ceiling displaying an array of bottles. Let's get more into the drinking culture of Barcelona before listing out the speakeasy bars in the city.
The culture of any country or region is the most essential part if you want to learn about a new place. Learning about the drinks' culture will help you blend into the atmosphere and relax. Drinks are clearly a big part of Barcelona's appeal. Almost 3 decades ago, Barcelona hosted the Olympic Games and it attracted so many tourists that it became one of Europe's coolest destinations. People gather to drink as if it were a special occasion.
A few drinks that have gained popularity over the years are vermouth, cava, gin & tonic, wine, and horchata. Spain is the third-largest producer of wine in the world. Popular wine regions include Penedès, Empordà, Montsant, and Priorat, which produce both white and red wines. On the other hand, Vermouth never went out of style as it is a perfect excuse to organize a get-together with friends. Although it was initially used as a medicinal remedy, it became popular among the youth. This drink is garnished with a slice of lemon or orange and you can add a little soda too for that extra kick that is recommended by the localities.
Barcelona has tourists for almost every month of every year and a lot of bars are located in the more touristy parts of the city – hence it's crowded. But if you don't prefer a crowd while drinking, we got your back with a list of speak-easy bars where you can enjoy your drink in an intimate setting.
Paradiso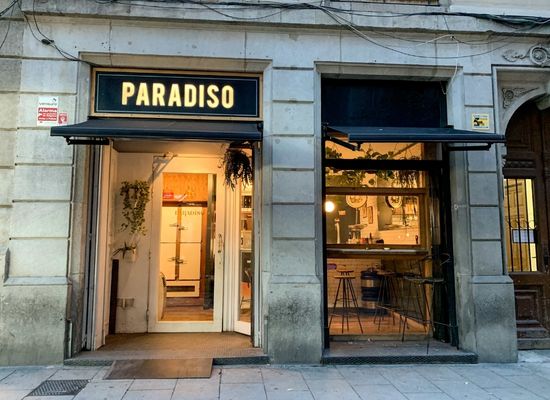 Image: Paradiso
Paradiso takes pride in its interior design–the majestic curved wooden paneling of Paradiso's front bar, after walking through the fridge door at the back of a pastrami shop, which is located in the El Born district. The owner Giacomo Giannotti made sure to match the décor with his ' glow-in-the-dark drinks which are created in Paradiso's off-site laboratory Paradiso Lab.
The show-stopping cocktails, 'Space Colada' and 'Volcano Negroni', which is served alongside a mini dry ice volcano erupting over the glass. They also have their signature drinks, the Great Gatsby and Supercool Martini, which uses 'supercooled' water to build an iceberg in the glass. It holds 3rd rank in the list of World's 50 Best Bars 2021.
DRY Martini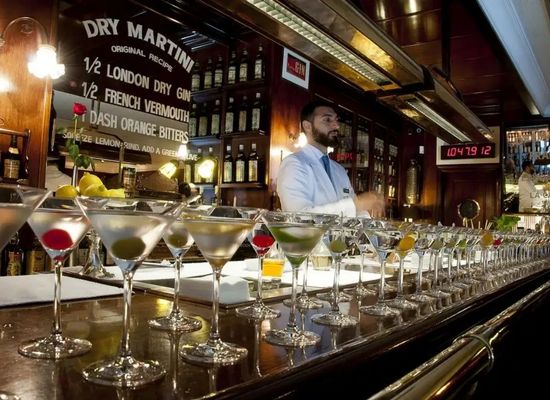 Image: Dry Martini
Dry Martini was established in 1978 and is owned by Javier De Las Muelas. During the early days, when it was run by the founder of the cocktail bar, Don Pere Carbonell, the Dry Martini Cocktail Bar was a Martineria: only Dry Martini was served. Then came other cocktails such as Gin Fizz, Margaritas, Negronis, Whisky Sours, etc. It is also considered the third best gin bar in the world. If you're looking for cocktails and food, this is the place. It is large yet intimate with plentiful green leather banquettes. The service is also distinctly old school. There's also an excellent range of infused vodkas such as truffle and jalapeño, served with an appropriate morsel of a snack. The walls are lined with bottles and black and white photos, it has its own well-stocked bar, and soft jazz music plays in the background.
Bobby's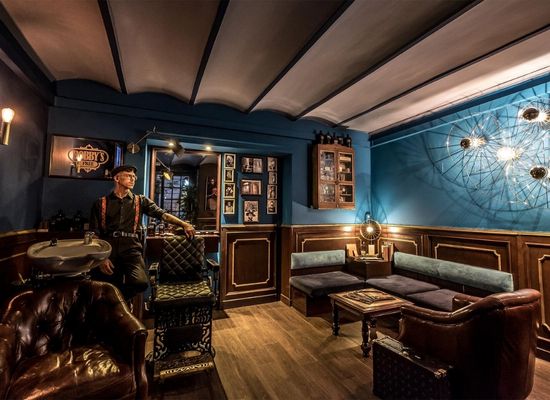 Image: Bobby's
If you're new in the town, Bobby's Free will definitely trick you to believe that it's a barbershop. They change their password frequently, and they promote their social media by urging you to find the password on their Instagram page or you won't be allowed to get in. After you get in, you would have to find the door that takes you inside the bar. Interestingly, the menu is made out of an old record to give you retro vibes. You can also visit their website (bobby free)
El Armario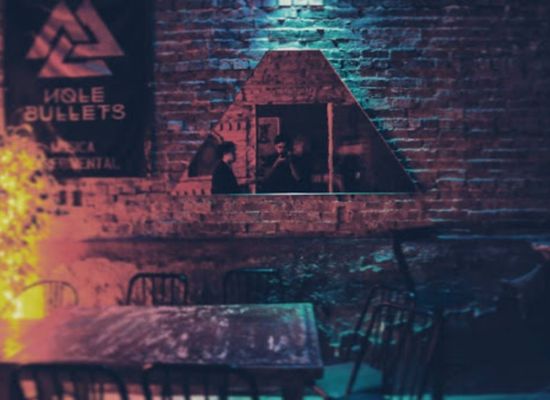 Image: El Armario
This is a secret bar, like an actual secret bar. The only information you could get is that it is in the El Raval Neighbourhood and that it is behind a wardrobe. If you have the time while in Barcelona, it is worth the time to find it and enjoy the adventure and their amazing gin and tonics. This is one of Barcelona's original clandestine drinking spots and remains true to its origins even today.
Boadas Cocktails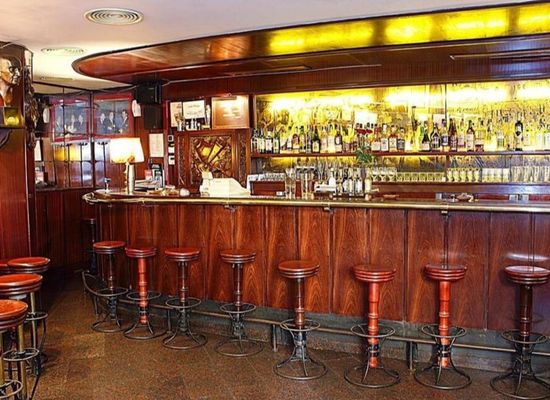 Image: Boadas Cocktails
It's located in one of the prime locations in Barcelona, La Rambla, but it's surprisingly easy to walk past Boadas without noticing the red doors. This cocktail lounge has been operational since 1933 and is the oldest cocktail bar serving Vodka martini in Spain. It was opened by Miguel Boadas, who learned mixology at the world-renowned La Floridita bar in Havana. You can visit their website Boadas Cocktails for more information.
Bankers Bar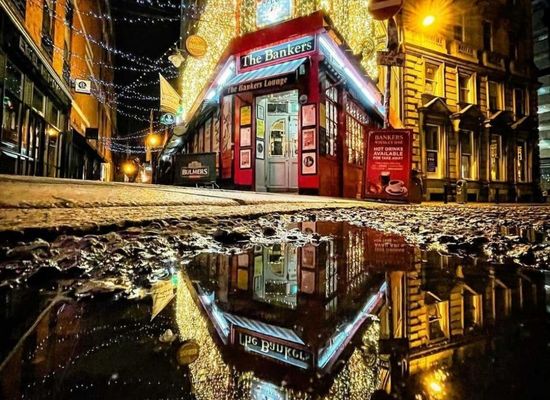 Image: Bankers Bar
It's the most beautiful bank in Barcelona. The ceiling is designed from authentic safety deposit boxes alluding to the building's former use as a bank, Banker's Bar is both a vibrant nightspot and a stunning piece of design. It has both – indoor and outdoor seating along with an extensive list of cocktails which includes Bloody Mary, Cosmopolitan, Whisky Sour, or Margarita. They also serve a range of wines, champagnes, and Virgin Cocktails.
Cocteleria Artesana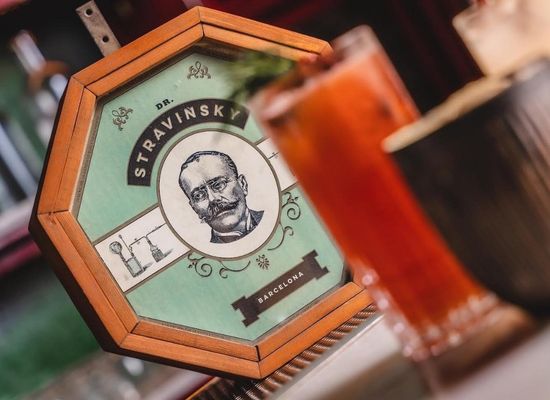 Image: Cocteleria Artesana
Dr. Stravinsky is a 1970-themed private bar. Their drinks menu shows the dedication, which is divided by the technique used to produce a cocktail's components. You would be able to see fermentation and distillation, with drinks containing kombucha, kefir, and more. The bar itself looks like a legit laboratory with infusing jar lining the walls. The average price per cocktail is $11.
As the drinking culture in Barcelona depicts, "TO DRINK BUT NOT GET DRUNK", you can explore the bars and even binge drink as it's not such a problem in Spain, and with the help of our list of top speakeasy bars, you can take your friends and have a story to tell about this mysterious city.
Article by Puja Behera, Beverage Trade Network.
Header Image Source - Bars of Barcelona, chief technology officer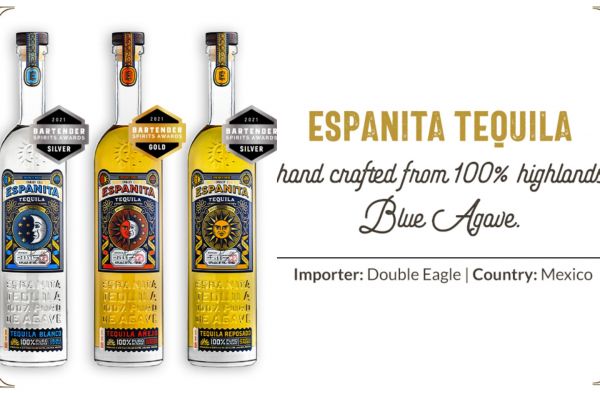 News
The 2023 Bartender Spirits Awards submission deadline is coming and here are some of the trade benefits brands get.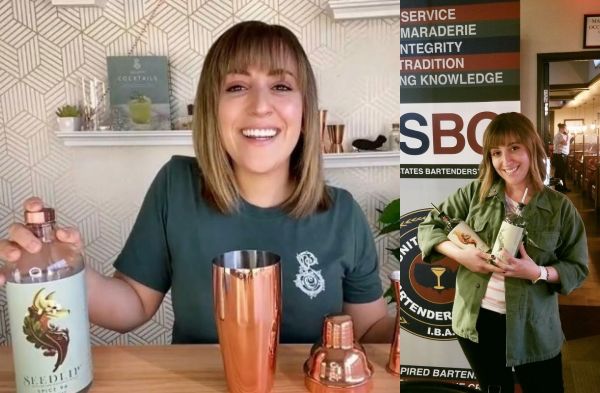 Interviews
The Brand Ambassador for Diageo's non-alcoholic spirit category, René Hartel talks about her journey, her marketing strategies, and how she is contributing to the emerging trends of non-alcoholic spirits.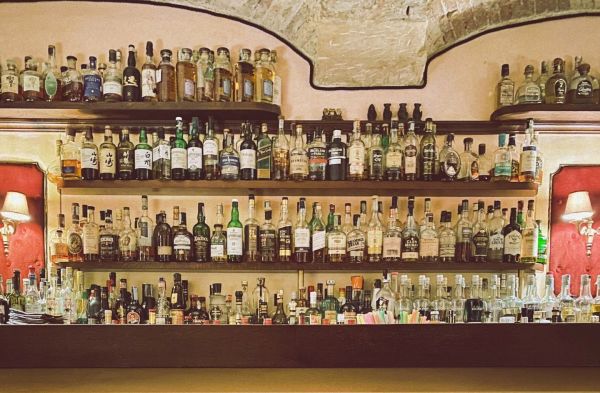 Insights
With the current situation in hand, here's how bars and restaurants can increase their beverage sales and get back on their feet.
South San Francisco Conference Center, 255 South Airport Boulevard, South San Francisco, CA 94080, United States.
Register Now