History of Vodka And How it Started?
01/09/2022 If you are curious to know where and who produced vodka spirits first?. Keep on reading the article below.
Vodka is a neutral spirit, has no odour or colour and can be derived from any fermentable ingredient. It was traditionally made primarily from potatoes; some regions still use potatoes and corn to make vodka. However, cereal grains such as wheat are used to distil vodka in most of the United States.
[[relatedPurchasesItems-31]]
Vodka was used as medicine in mediaeval times. It was marketed as a possible cure for a wide range of ailments and conditions, including infertility and toothaches. Even records indicate that vodka was thought to be a miracle cure for the plague. Vodka's popularity skyrocketed during the 1940s and remains one of the world's most popular spirits today. Every year, billions of gallons of vodka are consumed globally.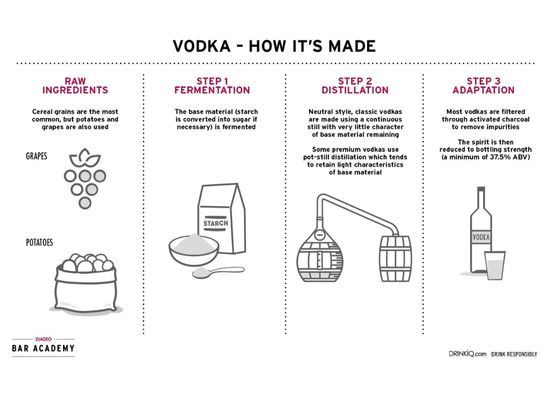 Step-by-Step Process of Creating Vodka
Image Source: Diageobaracademy
Historically, vodka production did not produce the pure forms of vodka we enjoy today. Many impurities were left in the alcohol due to antiquated manufacturing methods. To mask these impurities, vodka producers frequently used fruits and spices.
Talking about history, Russia and Poland have long-running disputes over who was the first to produce vodka spirits, claiming to have created and celebrated it as their national drink. However, the truth may be irrelevant because today's product is undeniably different from that of the 15th or 16th centuries.
The Russians did not have their first documentation of vodka until 1751. Taking advantage of the cold weather, Russian pioneers developed an early form of freeze distillation, freezing beer overnight to remove the water content. This resulted in a spirit with higher alcohol content but also concentrated levels of fusel oils and other impurities.
Many key characteristics of modern vodka can be attributed to Russia, like the invention of charcoal filtration to remove impurities from the final spirit, attributed to 18th-century chemist Theodore Lowitz. In 1780, the Russian Tsar commissioned him to make the national drink "more hygienic."
However, a Russian peasant named Pyotr Smirnov created one of today's most popular vodka brands. Rather than his Russian ancestry, he named his spirits brand after the French spelling of his name.
The Russian aristocracy became increasingly involved, eventually establishing a monopoly on vodka production at the expense of the working class. This was a major factor in the 1917 Bolshevik revolution, which forced leading distillers like Vladimir Smirnov (son of Pyotr Smirnov) to halt production and flee the country. Smirnov ended up in Poland, then France, before bringing his brand across the Atlantic and facilitating vodka's introduction to the western world.
Talking about Poland, according to the first written document, vodka was invented in Poland in 1405. The Polish word 'wódka' dates back to 1405 when it referred to alcohol-based medicines and cosmetics made from frozen wine. Later, in the 16th century, it was common for families to make their vodka at home, flavouring it with fruit and herbs to mask the harsh taste of the alcohol. Natural flavourings are still a tradition in Polish vodka production today.
Poland is well-known for its potato vodka. This began with a royal exchange at the beginning of the nineteenth century, when the Austrian Emperor gave the exotic item from the Americas to the Polish King. Later in the century, the introduction of new technologies enabled the production of more refined vodkas, with rectification close to today's standards implemented in 1871.
There are over 1000 Polish vodka brands today, but the import with Russian roots, Smirnoff, is among the best-selling because many Poles consider it to be more premium.
Both Poland and Russia were distilling high-quality vodka during World War II, but almost all of it was consumed in the country where it was produced. It was not yet regarded as a global spirit in the same way that whiskey, rum, or brandy were.
In 1938, when the rights to Smirnoff were sold in the United States, the colourless, odourless liquid held little appeal to North American drinkers, who were accustomed to the whiskey that had flourished after Prohibition. The vodka invasion began thanks to the ingenuity of John G. Martin, an executive at the Heublein drinks company.
A clever marketing strategy, including the Smirnoff rebranding, resulted in the creation of the widely celebrated Moscow Mule - a cocktail that embodied the spirit of vodka: fresh, dry, and spicy. This signalled the arrival of vodka in the West and aided in launching a cocktail revolution that would sweep the United States.
Today there are brands producing vodka and gaining massive popularity worldwide. Here are a few brands listed below.
Smirnoff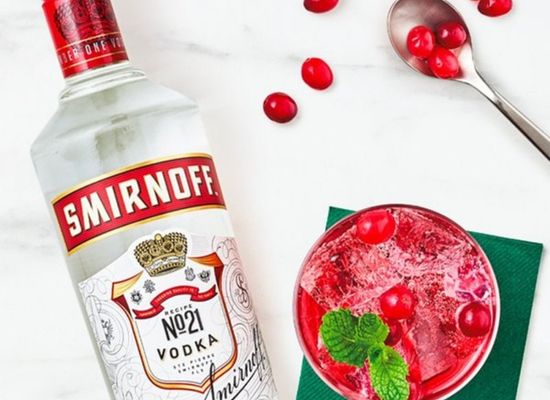 Image: Smirnoff Vodka
Smirnoff No. 21 Vodka is known as the World's No. 1 Vodka. This award-winning vodka has a bold flavor with a dry finish for ultimate smoothness and clarity. It is triple distilled and ten times filtered, which makes this vodka ideal to drink on the rocks or in your favorite cocktail, and it is Kosher Certified and gluten-free.
Absolut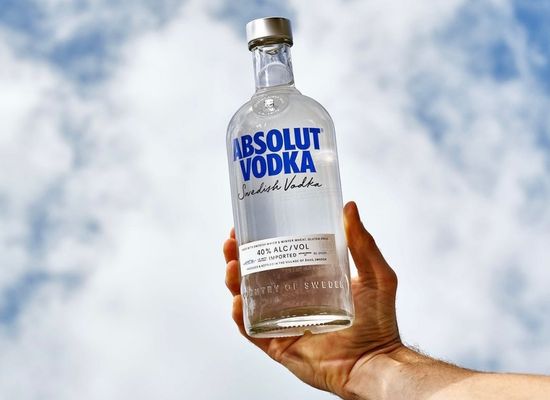 Image: Absolut Vodka
Absolut Vodka is a well-liked vodka worldwide, distinguished by its recognisable apothecary bottle and mild wheat aroma. It is made in the Swedish town of Hus from locally produced wheat and is smooth enough to be consumed neat or enhance drinks' sweetness. Absolut contains no added sugar, along with its premium taste and commitment to using only the highest quality ingredients, making the brand stand out from overall vodka in the world. Even though Absolut has a wide range of flavour options, its basic, unflavored vodka ought to remain a mainstay in every bar. One of the purest vodkas on the market, it has a crisp, pure flavour that is both full-bodied and complex.
Grey Goose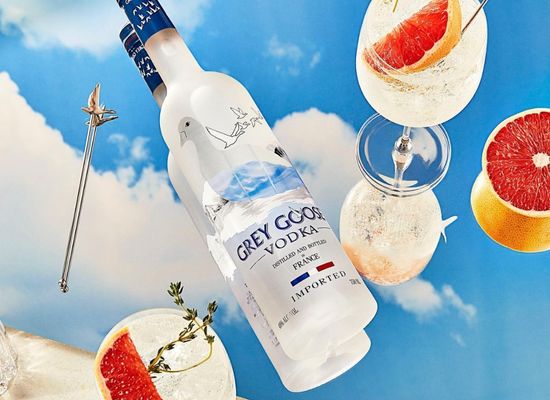 Image: Grey Goose Vodka
Grey Goose Vodka is a French vodka made from winter wheat grown in France and Cognac area water and is one of the first ultra-premium vodkas ever to enter the market. It is an absolute favourite and is loved by customers. Why? Because of the toasted undertones, subtle spice notes, and creamy finish.
Stolichnaya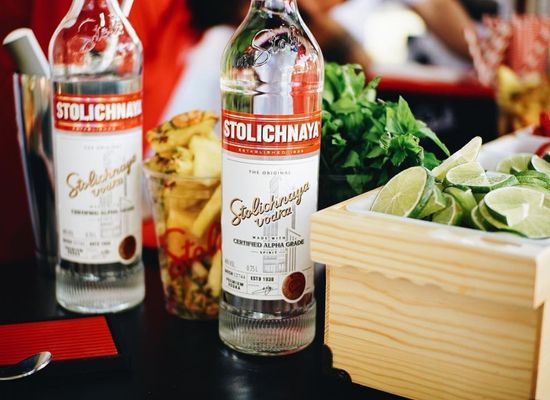 Image: Stolichnaya Vodka
Stoli has raised the bar for premium vodka since 1938 by fusing modernity, and inventiveness, with centuries-old customs to produce a drink that is at once delightfully contemporary and unquestionably timeless. Stolichnaya Vodka is a traditionally fashioned, incredibly smooth vodka. A pleasant, elegant entry leads to a smooth, medium-bodied palate with pastry icing, talcum powder, and citrus rind tastes. The wine is crystal clear in colour and has aromas of marshmallow, mineral, and subtle fruit peel. It ends with a crisp, subtly sweet sugar dust, wet straw, and well-balanced pepper fade.
Ciroc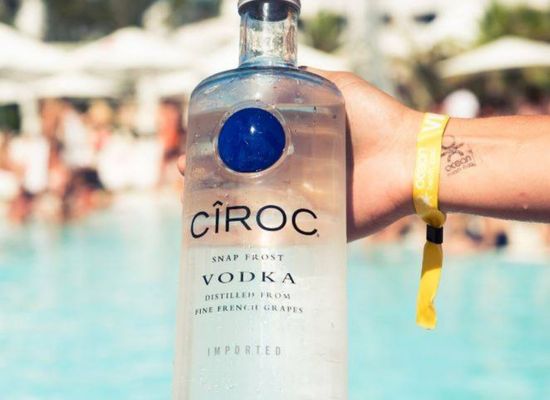 Image: CÎROC
A truly modern vodka, CÎROC was inspired by more than a century's worth of winemaking expertise and artistry. CÎROC has a particular flavour with an unusually fresh, smooth, and fruity taste thanks to the outstanding French grapes and the fifth distillation. CÎROC's dedication to great taste, quality, and a fun-loving lifestyle can be seen in its lusciously smooth, playfully sophisticated products. Exceptionally smooth when consumed straight or on the rocks, CÎROC also blends flawlessly in some of your favourite mixed drinks.
Header image source: casualmixologist.com
Article by Aakriti Rawat, Beverage Trade Network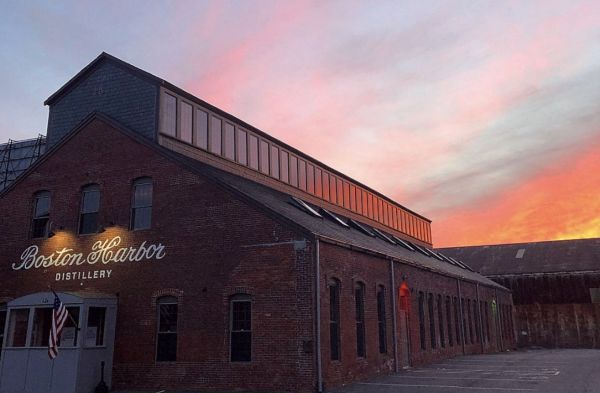 Suppliers Spotlight
Demon Seed Whiskey scored 89 points, a silver medal at the 2020 Bartenders Spirits Awards.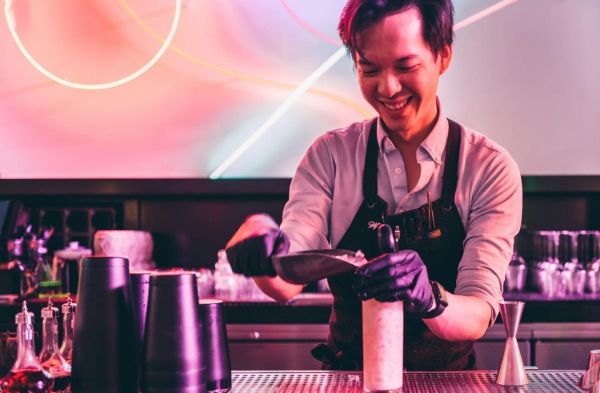 Interviews
From working behind the bar to owning his own bar, William Tsui shares with us his essence of bartending.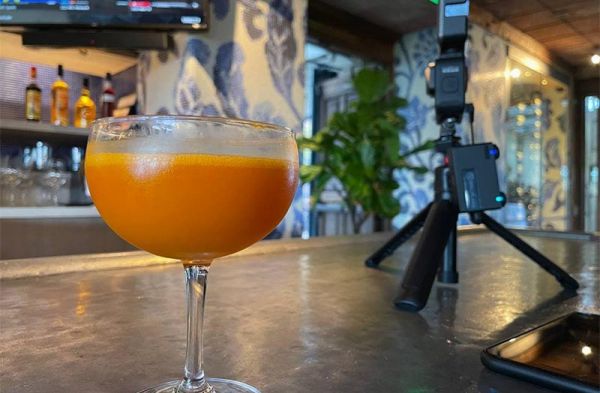 News
In a bid to raise the bar year after year and offer increased value to competition entrants, the Bartender Spirits Awards has introduced a beneficial feature for its entrants
South San Francisco Conference Center, 255 South Airport Boulevard, South San Francisco, CA 94080, United States.
Register Now