To-Go Cocktails are Here to Stay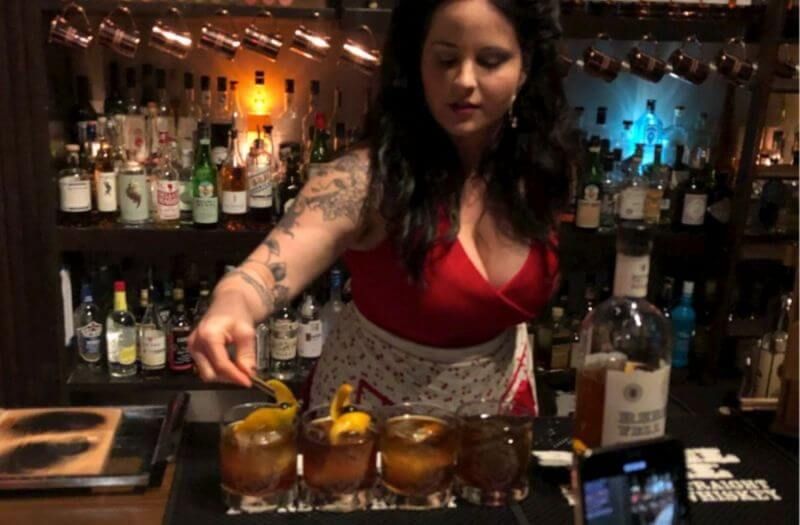 02/02/2021 Megan believes that creative support programs with a story are the ones that really work for her and the bar.
The BartendersBusiness.com team recently spoke with Megan Elizabeth Abraham about her life and works, and how she has coped with 2020. She had some really interesting insights to share about the bartending industry, cocktail trends, her work-style, and a lot more.
Hi Megan, tell us something about yourself
When I am not bartending I foster dogs and place them in forever homes. I fostered 60 dogs last year!
Where do you work?
Aziza and Mourad (Creative Beverage Director)
What inspired you to get into bartending?
My first bartending gig was at the Half Penny Pub in Upstate New York. I started bartending to pay my bills, but ended up loving the rock and roll lifestyle at my little dive bar. There was a band playing heavy metal off to the right and a jukebox screaming to my left. It provided me a safe way to socialize with many people I would have never otherwise met and keep them at arm's length. Bartending put me in the power position and gave me an excuse to dress up, be a part of people going out and having fun, and get paid - what a combo! Eventually, my love of food led me to transition into culinary-driven bar programs that support restaurants.
How according to you has the role of the Bartender evolved, especially now during Covid times?
During Covid there is a distance between people created by masks and social tension. That being said there is also more pent-up demand to connect with people deeply than ever! My interactions with guests are less frequent because dining takes place outside, so my bar functions almost like an auxiliary kitchen.
No one sees me make the drinks so we streamlined efficiency by batching cocktails. Instead of worrying about people sitting at the bar and tickets for drinks that service tables in a restaurant I worry about drinks fulfilling the tickets serving tables in the restaurant and also replenishing and servicing to go orders. It's kind of like stocking a vending machine, you need to make sure everything is in its place and ready to go ahead of time, and then eventually someone will want it.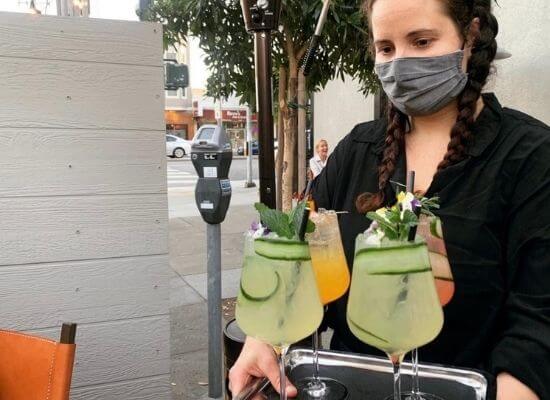 Megan with cocktails
The difference is, beverages, especially when using citrus have a shelf life so it's a tight rope balance to figure out how to be prepared enough but not waste. With a vending machine, you take skittles, M & M's, and cheese-it's and fill the slot. For a to-go cocktail program, you batch and bottle cocktails which requires, juicing the citrus and making any specialty ingredients: for example Mecalef honey or specialty infusions. Additionally, we rotate for freshness and label each cocktail with a print out that includes the ingredients.
There are many steps and it requires multi-tasking and organization. Skills I have been using for years but am now gearing more towards the production of to-go cocktails as opposed to a heavier focus on interpersonal relationships when people were inside.
What are some of the most important skills for a bartender to have?
Organization, multi-tasking, cleanliness, interpersonal relationships, letting things roll off your back, recall, creativity, passion.
What do you look for when you plan to buy spirits for your bar?
Quality and taste. I like a product with a story behind it being made by people I respect and connect to. There is so much competition in the industry so knowing about a product is key and often times a trusted relationship with a rep introducing me to a spirit helps pave the way towards piquing my interest.
What support programs work best for you from suppliers?
I like collaborations that are tied to a specific cocktail and either raise awareness for a cause or holiday. Sure a lot of people like a pretty photo of a delicious cocktail but I like to give people a reason to drink and feel like they are a part of something bigger than themselves.
I also draw creative inspiration from the cause, for example, last year for Bees Knees Week with Bar Hill Gin I made a Bees Knees variation with Mecalef Spice and Creme de Casis to emulate a flavor combo on Aziza's Brunch menu. Bar Hill was contributing these super cute Honey Bear Glasses when we bought their gin made from Honey and their honey.
The drink tells a story and creates an experience.
That type of activation adds value to my program because not only do they contribute by providing the Bear Glasses but they inspire me and help me develops a drink that is creative and beautiful and tells a story. This type of value-added to my program is priceless. I also like to learn by doing: i.e. distillery tours, i.e. Cane Camp in Puerto Rico.
What cocktails and drinks trends do you see in 2021
Cocktail kits and to-go cocktails. I hope these additions are here to stay.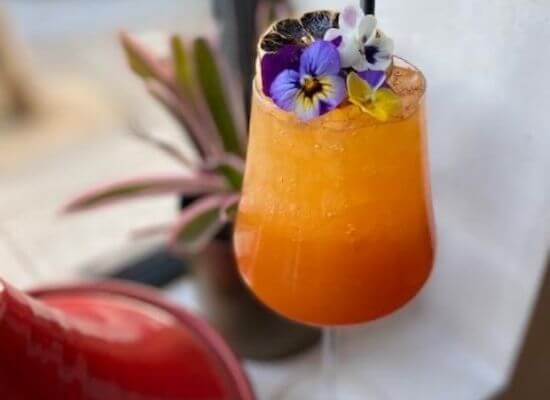 Seasonal Cocktail
What's the best part of your job?
The best part of my job is connecting with people. It could be a Jack and Coke or it could be a fancy creation with a new technique. When I am able to share with a guest a connection that moves them, I've done more than show up and trade time for money.
I often think of the Peanuts clip where Lucy has a lemonade stand where she gives our advice for a Penny.
My role as a bartender is nothing without a guest to impact.
Now that dining is changing due to Covid we have to get a little creative about how we can move the guest through the cocktail to-go experience at home. I still love to make an impact, if even from afar.
What are your favorite TV shows right now? Or your favorite movie?
Maury, Dance Moms, shhh Don't Tell the Bride.
If you had to pick one spirit as your personal best which would it be and why?
Gin, Mezcal, and Rum: all the flavor-packed spirits. Gin is like a bouquet in a beverage.
How are you marketing your bar to drive some foot traffic during covid-19?
I am active on Instagram and stitch together glimpses into my personal and professional life in order to connect with my guests from afar.
People have more time at home so they are ripe to receive content. My fiancé is also a beverage director and we hosted 70 episodes of Virtual Happy Hours during Shelter In Place.
We developed 4 cocktail kits and have created recipe cards so the people who love our beverages can recreate some of our magic at home and also can be inspired to be empowered in their home bar.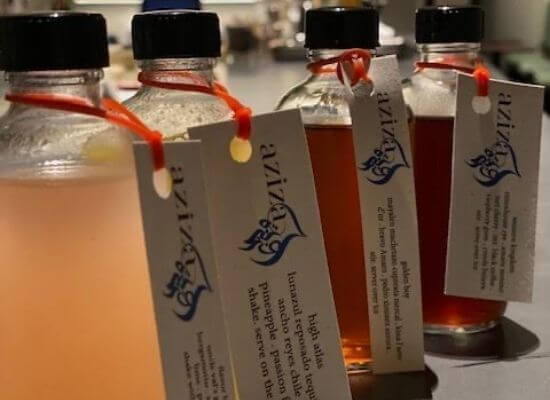 Cocktail Kits
Any tips for new bartenders?
Stay humble as there is always more to learn. While I feel confident in my cocktail creating, I'm going to start taking wine classes to up my game.
There will always be someone who knows more than you or has something you can learn from either what to do or what not to do.
I think of myself as the pillar in a revolving door. I show up, breathe and stay calm, you never know who will come in or go out but as the bartender as long as you stay grounded and allow things around you to keep moving, you have the privilege of witnessing and facilitating amazing things.
What's the most underrated cocktail ingredient or spirit?
Rum.
With the current pandemic, what will the F&B industry look like in the near future?
More to-go options.
Are there any permanent changes Covid will create in the bar industry?
More to-go, online ordering, outdoor dining, dog-friendly dining
What is your most popular cocktail?
Anything that is a seasonal take on a classic for example Koit Tower, a Manhattan variation served in a smoked cedar glass with hints of cherry, walnut, Amaro, and Scotch.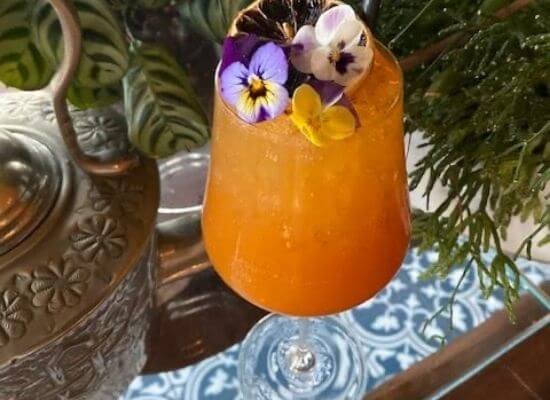 Seasonal Cocktail
What cocktail trends would you like to see going away this year?
Nothing comes to mind. Trends are fun! There is such a history of cocktails, resurgences of old goodies are a hoot like Blended tiki drinks, hot chocolate drinks, a high-end twist on an AMF. Any trend can be done well if made with high-quality ingredients and executed with passion and finesse.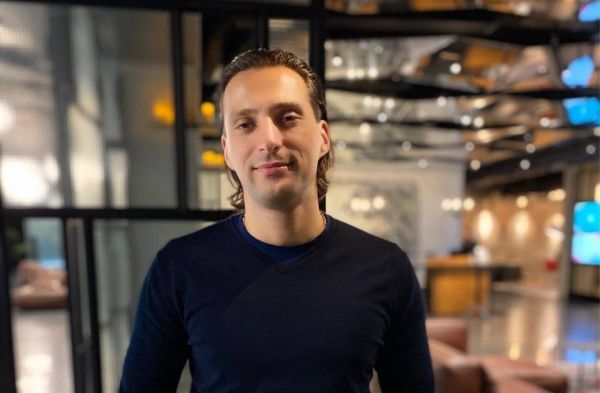 Interviews
Hospitality industry enthusiast and bartending professional Daniel Susko believes the low and no alcohol movement will prevail.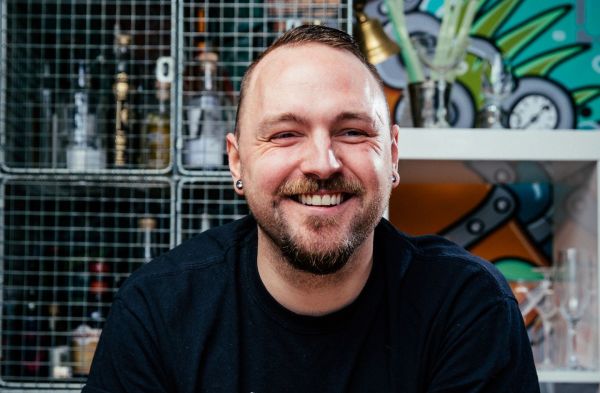 Interviews
From being a shy kid to spending a decade bartending at some great bars, Luke has come a long way and is still going places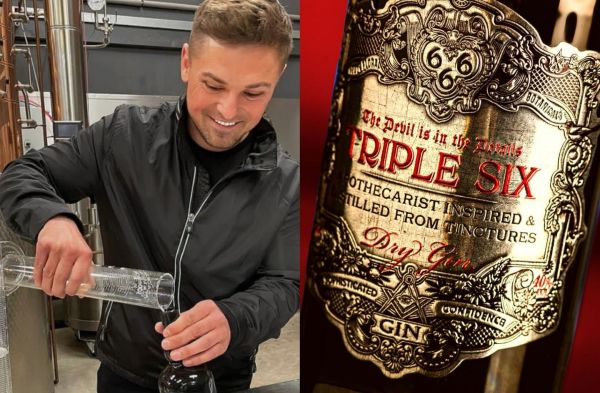 Interviews
Mitchell Carr, Founder of Triple Six Dry Gin talks about his idea behind starting Triple Six and about his plans on growing the brand in the coming years.
South San Francisco Conference Center, 255 South Airport Boulevard, South San Francisco, CA 94080, United States.
Register Now