Mastering the Art of Blending with Master Blender David Carpenter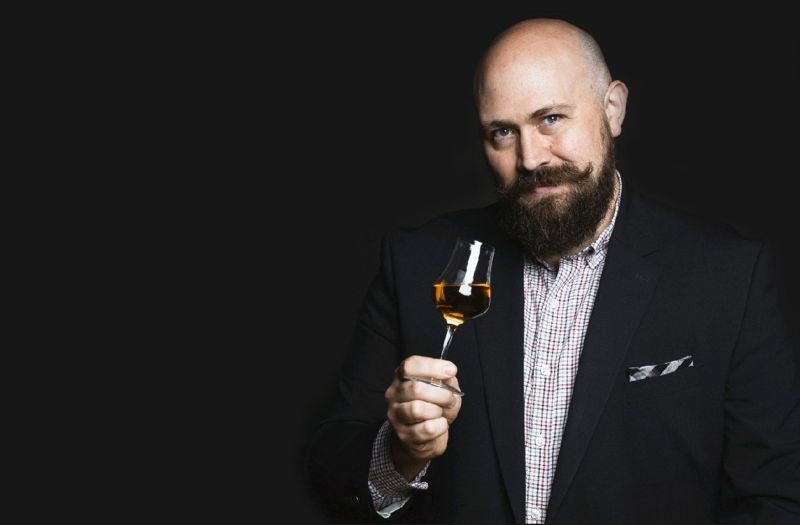 18/02/2022 Master Blender David Carpenter of Redemption Whiskey shares his passion for fine whiskeys and talks about sustainability, distillery innovations, and his experience at IBWSS 2021.
David Carpenter is the Master Blender for Redemption Whiskey at Deutsch Family Wine & Spirits. Raised around whiskeys in Kentucky, Dave describes every expression that he creates as his child. Having studied culinary arts, he has worked in hospitality for more than a decade as a chef and bartender, mastering the art of balancing flavors. As a Master Blender, he combines his love for craft whiskey with years of whiskey-making experience to craft one of the finest whiskeys which is inspired from the pre-prohibition era, bringing forward the unique rye forward notes. Apart from creating premium spirits, Dave is also a faculty at Distilled Spirits Epicenter, educating budding distillers on the art of creating fine spirits.
[[relatedPurchasesItems-31]]
Tell us a little about yourself? What inspired you to join the Beverage Distillation industry?
I first began in the food and beverage industry as a chef, going from culinary school to fine dining, working in country clubs, and even as a personal chef. However, as a seventh-generation Kentuckian and a long-time lover of history, I have always been drawn to whiskey-making. This led me to transition from the stove to the still as I worked my way up through every step of whiskey production from grain-in to bottles-out. I went from distilleries that made two barrels a day to 2,000 barrels a day, which enabled me to hone my new craft and learn from the old-timers along the way.
What does your typical day look like?
I'd like to say I don't really have a typical day, which keeps me on my toes. But if I had to narrow it down, on a given day I am likely to start by reviewing our upcoming bottling runs, making sure the correct barrels are being selected and ensuring the bottling team has all the materials they need to complete the next anticipated run. Before lunch, I will set up a tasting of the latest samples and check their nose and palate profile for future blends. I can appraise up to XX samples in one day. To round out the second half of the day, I usually check our future forecast of barrel needs and work with our distillation partners to get new barrel fills on the calendar. I like to end the day by putting on my product research hat, attending Zoom meetings with consumers to learn more about what they are looking for in whiskey and what they enjoy from our current offerings.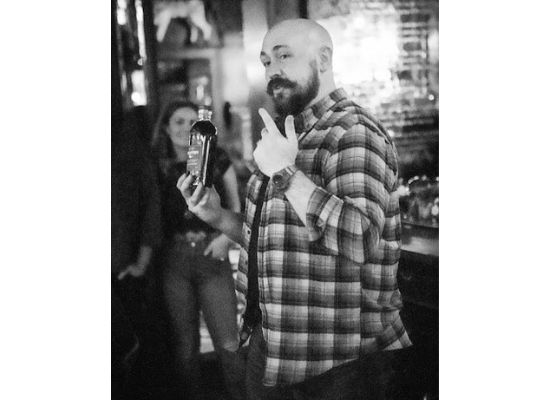 According to you, what makes a spirit great? What key factors do you keep in mind while blending a new spirit?
In my mind, what makes a spirit great is when it takes a stand and says, "Here I am, take me for what I am." I'm not one to enjoy a spirit that fades into the background and doesn't have much to say for itself. That's what I really enjoy about the Redemption line-up of bourbons and ryes. Each has a unique voice and personality to call their own. Whether I am blending a new product or working on the 50th run of a continuing line, I am looking to keep that personality present and true.
How do you work with the Distributors to increase sales?
I love working with our Distributor partners to help tell the Rye Revival story of our whiskies and bringing back bourbons and ryes that deserve a second time to shine. We work in a true partnership. Our Distributors are our eyes and ears in the market. I strive to get the best possible liquid in their hands to ultimately share with the end consumer. The way I see it, our Distributors work hard to sell that first bottle, and it's my job to supply the flavor that sells the next 10.
What does Redemption's DTC (Direct To Consumer) channel look like?
We do not currently sell directly to consumers, working instead through our great network of distributor partners, retailers, restaurants, and bars.
What do you think are some of the upcoming innovative Spirits trends in the US market?
When it comes to upcoming and innovative Spirits trends in the US market, I am seeing a push for spirits that are bold and category-setting, showcasing nuances of flavor rarely seen before. It is always challenging to create something new, especially in an industry with so much history and longevity as whiskey. We do have some exciting projects coming soon that are pushing the envelope and I can't wait to share them with you. We are also seeing a bigger push toward sustainability in the category and being more efficient with our resources.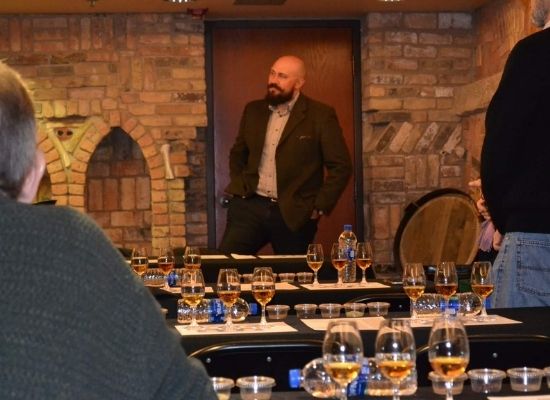 David Carpenter hosting a Redemption tasting session, Source: Facebook / Binny's
How do you focus on sustainability while making your spirits?
With a growing focus on sustainability, we are taking a hard look at how we can be better stewards of our natural resources by creating as many efficiencies as possible. For example, we are currently producing Redemption bottles two miles from where the whiskey is aging. You don't get less road time than that, especially given the current Supply Chain climate we are all facing and the difficulty of obtaining glass.
What is the biggest challenge you face in your role?
The biggest challenge I face in my role is creating consistent products and ones that truly showcase the possibilities of pre-prohibition-inspired rye-forward recipes. It is hard work, but exciting.
What was your personal experience being a part of the 2021 International Bulk Wine & Spirits Show?
The IBWSS Show is a great chance to reconnect with industry leaders after being apart for so long. At the show, we are able to combine our specialties and learn from each other to help us move forward in an ever-shifting landscape of "what comes next". I have found solutions to multiple challenges in our industry by attending IBWSS, and by learning from the strong network of seasoned wine & spirits professionals it offers.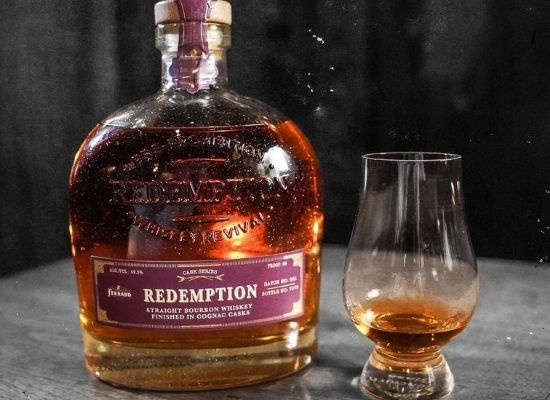 Redemption Straight Bourbon Cognac Cask Finish, Source: Instagram / Redemption Whiskey
Finally, which is your favorite expression of The Redemption Whiskey and how do you like to drink it?
Well, each expression is like a child to me, so it is hard to pick favorites. Each takes their turn in the sun. However, the current apple of my eye is Redemption Cognac Cask Finish, our newest release. To create this new offering, we take our award-winning High Rye Bourbon and finish it in authentic Cognac casks. The result is a whiskey rich in elegant, bold flavor balanced by a warming sweetness and Redemption's signature "rye-forward" finish. It has been years in the making. I'm glad to be able to relax and reflect at my desk, neat glass of Redemption Cognac Cask Finish in hand. It's a real treat and moment to be savored.
Interviewed By Prithvi Nagpal, Editor & Sommelier, Beverage Trade Network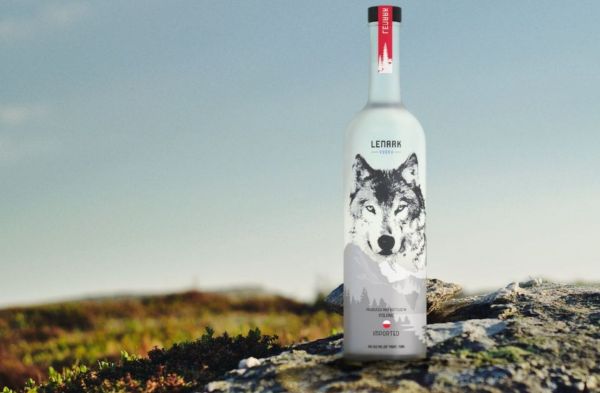 Suppliers Spotlight
Lenark's story begins with a rebellious woman, who defied a communist regime and distilled an excellent vodka in her garage.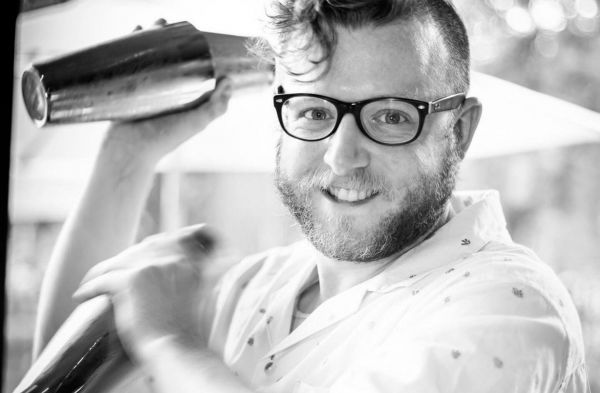 Interviews
Chicago bar veteran Roger Landes talks about his new cocktail pop-up, Vagabond, and how he plans to make the bartending world more sustainable.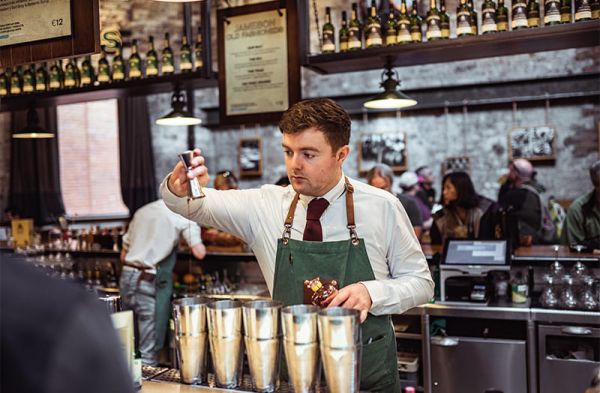 Insights
While Bartending is considered one of the most popular side hustles, here are five side hustles for Bartenders to extend their expertise and scale their impact.
South San Francisco Conference Center, 255 South Airport Boulevard, South San Francisco, CA 94080, United States.
Register Now