12 Questions With Emily Shah, The Actress, Writer, Owner & Founder at Dharma Indian Dry Gin.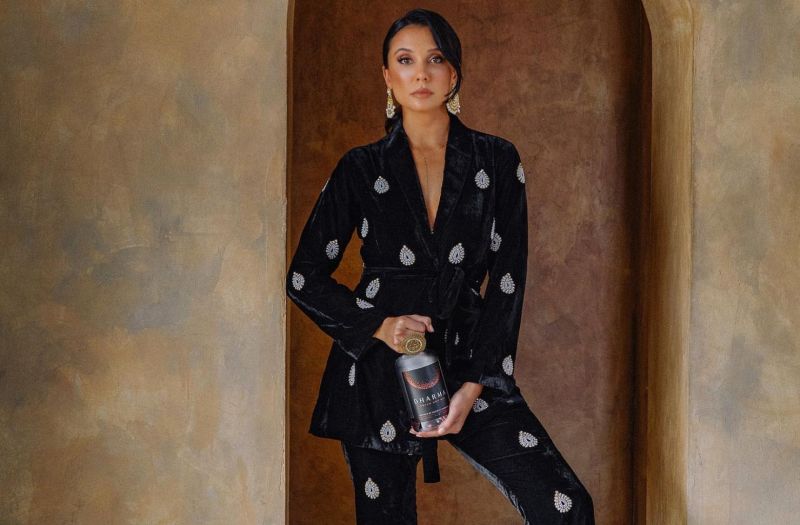 17/08/2022 Emily Shah, Owner & Founder at Dharma Indian Dry Gin, talk about Dharma Gin, breaking-in into a male-dominated industry, and spirits industry trends.
From being an actor to now being the founder of an Award-Winning Gin Brand, Emily Shah has worked in "Jungle Cry" and "Fortune Defies Death" as the LEAD in two full-length movies. She also serves as the film's Executive Producer. Besides serving as a UNICEF ambassador, she has worked on national campaigns for companies like Proactive, Motorola, T3, and Sephora. She has experience in production, having worked in both Bollywood and Hollywood. In addition to working with Spiro Razatos and other stunt directors on "Captain America 2," "Fast & Furious 7," "Run All Night," and "Monster Trucks," Emily also worked with Clint Eastwood on "Jersey Boys."
Emily recently founded Dharma Gin, an Indian Dry Gin specializing in handcrafted, small-batch spirits and alcohol. In 2022, Dharma Gin was made available online in 45 states. Emily wants to introduce distinctive, Ayurvedic-inspired tastes from her Indian roots to the liquor business.
[[relatedPurchasesItems-31]]
From working in the Film Industry to starting a spirit brand, what has it been like for you?
People always say that the entertainment industry is very male-dominated. However, I feel as though the alcohol industry is even more male-dominated, with a major lack of representation. I love being a fierce, visibly ethnic female business owner in this industry, and I try to work with as many females AND minorities as possible. It's been a challenge, as this is a brand-new industry for me, but I am thoroughly enjoying growing Dharma Gin!
Both industries are similar in more ways than you think! Agencies are like the distribution companies (CAA, WME, GERSH vs Southern Wines and Glaciers, Breakthru, RNDC etc.). Sales brokers are like your managers. On-premise (bars and restaurants) are like your movie theatres. Off-premise (liquor stores/ restaurants) are like streaming platforms.
Can you tell us the idea or inspiration behind introducing Dharma Indian Dry Gin to the market? Share some light on how Dharma Gin got its name.
I grew up eating Indian food and learning about Indian spices and herbs. I always knew that Indian food was incredibly nourishing and healthy due to the superfood ingredients. With that being said, I wanted to create a brand that showcased and highlighted those unique, aromatic ingredients I grew up on. I am a big fan of gin! It is the only distilled spirit that truly varies within its own category since it is the one spirit that can have a unique recipe really. Vodka, tequila, and whiskey… are all essentially made out of one ingredient (or similar ingredients across its respected category). Gin is the only distilled spirit that has various botanicals making each and every gin stand apart due to its unique recipe. I wanted to incorporate the ingredients I grew up with in a distilled spirit, and being half Indian, half British, I knew that gin would be the most appropriate distilled spirit to create!
Dharma means an individual's purpose, and I felt like it was my purpose to shed light on the superfood botanicals that come from India by distilling them in a gin.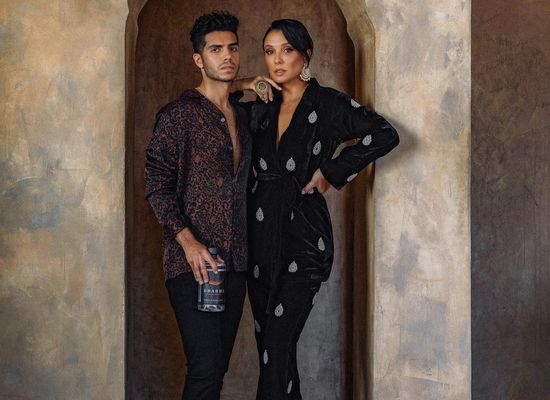 Mena Massoud, Co-Founder with Emily Shah, Owner & Founder, Dharma Gin
As Dharma Indian Dry Gin founder, what does your day look like?
Well, being that Dharma Gin is a part of one of my two careers, my days aren't always the same. I try to split my week between my entertainment and entrepreneurial careers. On the days I am working on Dharma Gin, I answer emails early in the morning. I check in on our inventory, pending orders, customers etc. Then I usually shoot our cocktail recipes for our social channels for the rest of the day. I come up with the recipes the night before and source all of my ingredients right before, so they are fresh and bright on camera. I attempt to knock out a handful of drinks per shoot day, so I can pump them out on our channels over time in case I am gone shooting. But yes, our videos are all me. I design them, create the cocktails, edit them, etc. You can say my camera roll is FILLED with sumptuous Dharma Gin recipes!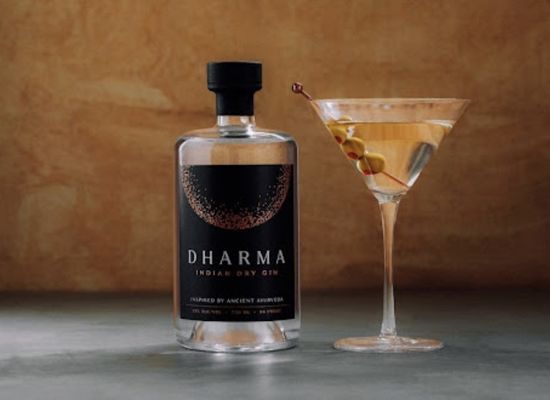 Image Source: Dharma Gin
What is so unique about Dharma Indian Dry Gin?
Because it is unlike any gin on the market. I promise you. Not to brag, but we had hardcore gin lovers, especially ones who adore really high-end brands (like the ones from the German Black Forest, hint-hint) blind taste our product against theirs. We had a 100% success rate of people choosing Dharma Gin over their beloved gins.
How would you describe your gin in 3 words?
In three words: Aromatic. Smooth. Flavourful
What is the best advice you got when you first started? Have there been any challenges you had to face?
To take things slow. I always want to go at the speed of light, and obviously, when you're passionate about what you do or have created, you want the world to see it, taste it, and experience it ASAP. But what comes fast, goes fast. Simple physics. I know that the alcohol industry is a business that requires one foot in front of another, that too, at a steady pace. The more time goes on, the more I realize how patience is a virtue on the backend logistics and how aggressive marketing, pr, and campaigning is a virtue on the front end. It's an interesting balance.
As for challenges, the alcohol industry is REALLY dominated by men. I do feel as though some of these men that are high up don't always take me seriously (until I prove myself). I have no ego at all, and I want to learn and absorb anything and everything that comes our way. In the beginning, I was going around from bar to bar, opening up accounts for Dharma Gin and personally dropping off bottles. I had no experience in sales, let alone alcohol sales, nor did I ever think I could open accounts on my own. If there is a will, there is a way!
According to you, What role do marketing, branding, and story play in overall success?
I studied Media Management and Marketing, so if I know anything about this, it's how important marking, branding, promos, etc., are for the brand to succeed. I have a mentor, a south Asian woman working in the industry who I very much look up to, Sona Bajaria. She is a mastermind in marketing and PR. I love learning from her and understanding how to position a brand in more efficient ways.
What do you think about digitalization, and how are you leveraging it? Has it been beneficial for you?
Well, we do sell online, direct to consumers in the USA. So, I am definitely pleased with it. We have an outreach unlike ever before, where people from around the world can learn about our brand and people from around the USA can taste our product.
What trends do you see in the spirits market?
- Celebrities white labelling tequila, slapping their names on it and then trying to sell it. I am proud to say that my fellow founders and I have done everything in-house. We have sourced the bottles, the caps, the labels, the PVCs, and everything ourselves.
- Canned cocktails. I thoroughly enjoy a craft-made, beautiful cocktail. The only thing I will drink out of a can is beer or (hard) kombucha. I understand the convenience of it, but I personally don't enjoy premade drinks.
- Older Brands rebranding themselves (labels, bottles) to keep up with current times. Which is interesting and definitely working for some brands.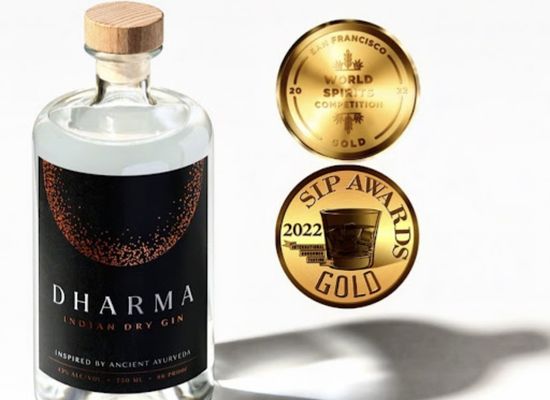 Image Source: Dharma Gin
How do you explore new markets for your gin and focus on business development?
We travel a lot and always keep an ear and an eye out for people ordering gin, speaking to bartenders, going to liquor stores to see their inventory, tourism... so many different elements. We do our own research as much as possible before entering a market. The Indian community has shown a lot of love, so also entering communities populated with South Asians.
What's next for Dharma Gin? Do you have new objectives or goals for the coming years?
There is so so so much that I want to do with this company; my brain is going to explode! I want to produce a distillers master cut of a secret botanical bill that will just feel like India's spice market on your pallet. We also want to tape into different types of spirits that would compliment Dharma Gin.
What is your favorite way to drink Dharma Indian Dry Gin?
- Neat. The best way to experience the hype!
(These next two are on our website).
- Sweet neem negroni
- Goolab Gimlet
Header Image: Emily Shah
Interviewed By Aakriti Rawat, Beverage Trade Network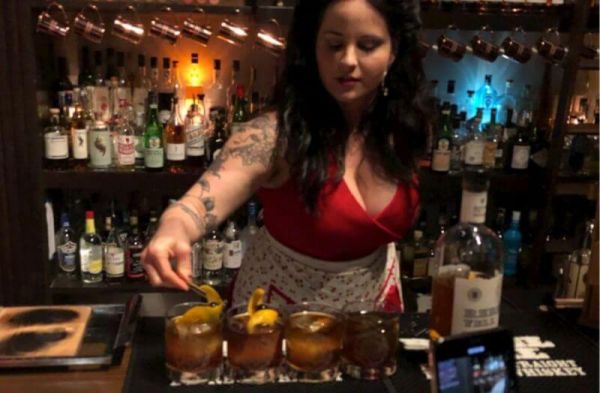 Insights
Megan believes that creative support programs with a story are the ones that really work for her and the bar.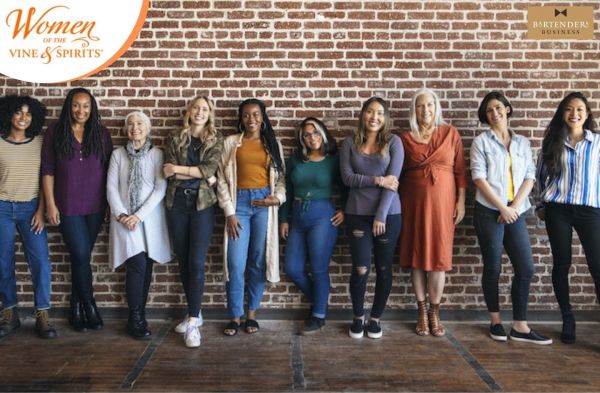 News
The non-profit aims to foster the next generation, cultivate leaders, feed the talent pipeline, and promote greater diversity, equity, and inclusion in wine, beer, and spirits.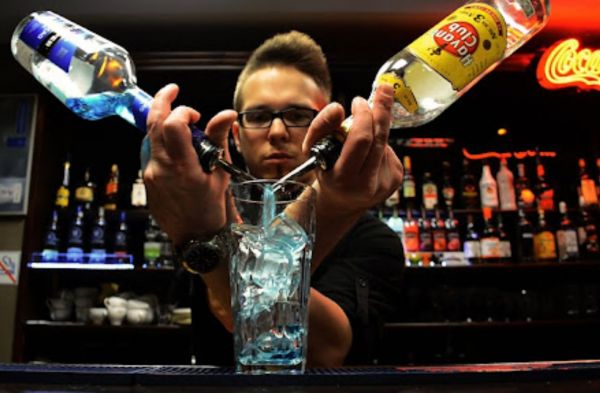 Insights
Subscribe to the YouTube channels of leading bartenders for some fun videos on bartending.
South San Francisco Conference Center, 255 South Airport Boulevard, South San Francisco, CA 94080, United States.
South San Francisco Conference Center, 255 South Airport Boulevard South San Francisco, California